A Feast of Female Voices, Cabra Library
Published on 11th May 2020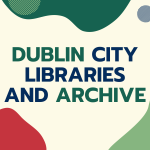 In this episode of the DCLA podcast, authors Susan Stairs, Nuala O'Connor and Eimear Ryan discuss their short stories in The Long Gaze Back. Chaired by Sinéad Gleeson.
Susan reads from 'As seen from space'
Nuala reads from 'Shut Your Mouth, Hélène'
Eimear reads from 'Lane in Stay'
Recorded at Cabra Library on 23 April 2018
Nuala O'Connor (aka Nuala Ní Chonchúir) is a writer and poet who has published 14 books, including Miss Emily and Becoming Belle. She has been published in Granta, The Stinging Fly, and Guernica, among many others. 
Eimear Ryan's writing has appeared in Winter Papers, The Dublin Review, gorse, The Stinging Fly, Granta.com and the Faber anthology Town & Country. She is co-editor of the literary journal Banshee. From Co. Tipperary, she lives in Cork
Susan Stairs received her Masters in Creative Writing from University College Dublin in 2009 and her story 'The Rescue' was shortlisted for the Davy Byrnes Irish Writing Award the same year. She has published three novels: The Story of Before (2013) and The Boy Between (2015) and her third novel One Good Reason (2017).
Sinéad Gleeson is the editor of The Long Gaze Back and The Glass Shore, two anthologies of stories by Irish women writers. Sinead's collection of essays Constellations was published in 2019 by Picador. 
You can subscribe to the Dublin City Libraries and Archives podcast on Soundcloud, iTunes, Stitcher, Spotify or wherever you get your podcasts. This season is based on recordings from the 2018 Dublin: One City, One Book events. Dublin: One City, One Book is an award-winning Dublin City Council initiative, led by Dublin City Libraries and Dublin UNESCO City of Literature, that encourages everyone to read a particular book during the month of April every year. 2018's choice was 'The Long Gaze Back' which you can read on Borrowbox and of course you can order it from your favourite bookshop.
The Dublin: One City, One Book for 2020 is Tatty by Christine Dwyer Hickey, available electronically on our BorrowBox app and from your favourite bookseller.
Finally if you're interested in podcasts why not check out the Dublin Festival of History podcast which features recordings from the free annual event and the new City of Books podcast with Martina Devlin, the podcast for people who believe stories matter. And that you can never have too many books.