Festival of History Reads
Published on 15th September 2016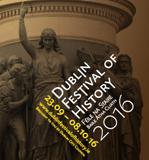 This year's Dublin Festival of History promises to engage and challenge history lovers with a diverse range of interesting talks.  Topics on the programme include Ireland's sporting history, Stalin's personal library, Hillsborough, modern Middle East, the Chinese Cultural Revolution, the raid on Entebbe airport and World War I and II. 
We have put together a book list as we are sure you will want to know more about these interesting areas after attending the talks. All books are available to borrow from our libraries and the pop up library at the Festival.
Dublin Festival of History takes place all over Dublin city from 23 September to 8 October. Once again the Festival programme offers lectures, film, walking tours and exhibitions. History will be brought to people's doorsteps via the city's branch library network with a series of talks and workshops.
Sport and Ireland: a history by Paul Rouse
Blood and Sand: Suez, Hungary and sixteen days of crisis that shook the world by Alex von Tunzelmann
Years of turbulence, the Irish Revolution and its aftermath. Diarmaid Ferriter, ed.
1916 in 1966: Commemorating the Easter Rising by Margaret O'Callahan and Mary E. Daly
The Vanquished: Why the First World War failed to end by Robert Gerwarth
Operation Thunderbolt: Flight 139 and the raid on Entebbe Airport by Saul David
The Devils' Alliance: Hitler's pact with Stalin 1939-1941 by Roger Moorhouse
The Cultural Revolution 1962-1976 by Frank Dikotter  
And the sun shines now: how Hillsborough and the Premier League changed Britain by Adrian Tempany
Hillsborough: The Truth by Phil Scraton
Stalin's Wars, from World war to Cold War 1939-1953 by Geoffrey Roberts
Ireland: the autobiography: eyewitness accounts of Irish life since 1916 by John Bowman
Somme: Into the Breach by Hugh Sebag-Montefiore
Arthur Griffith: a life  by Owen McGee
Dublin since 1922: Diary of Ireland's capital by Tim Carey


Pop-up History Library
Bring along your library card and borrow these and other history books and historical novels at the Printworks venue at Dublin Castle, Friday 23 - Sunday 25 September.