Published on 16th May 2012

A quick blog for Musical Books, just want to tell you that I went to an amazing gig in Belfast last week to see Martin Carthy. This folk singer sings ancient songs from Irish, English and Scottish descent. His unusual and rhythmic guitar playing coupled with a distinctive voice keep ancient sea chanty and tales of war, woe and love alive in their purest form. His music has influenced Bob Dylan and his arrangement of Scarborough Fair was used by Simon and Garfunkel. His no nonsense stage presence and self-deprecating humour was a refreshing cherry on the top of an amazing performance. Check out this amazing album by him in the Music Library, Signs of Life.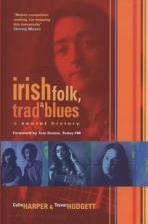 Now here is the twist, before the gig started in the tiny basement of a rustic bar, I struck up a conversation with the people sitting beside me and it turns out that one of them was Colin Harper. He has written for Mojo and Uncut music magazines and a biography of Burt Jance. He is also the author of a very important book Irish Folk Trad & Blues. The book investigates the influence of American blues on Irish folk and trad. It includes interviews and first hand accounts of live performances and pays recognition to the unsung heroes of Irish music, including Terry and Gay Woods from Sweeney's Men and Ottilie Paterson, (an amazing Irish blues singer way before Mary Coughlan!). 
And the final entry is Green Beat, The Forgotten era of Irish Rock by Dara O'Halloran. This book is a testimony that during the showband time in Ireland there was another kind of music blooming. This has an interesting piece of information, a cult hit of the original garage scene in the US was written by John Byrne who moved to the USA from Drimnagh in Dublin and set up a band called The Count Five. The hit was called Psychotic Reaction and was recorded in 1965.
Maybe you could leave a comment with more information on the Irish music scene of that time? You just might know someone who was almost famous.