The French Crime Fiction Challenge
Published on 25th June 2013
I think it fair to say that the Nordic countries have not got it all to themselves after all! What might I be referring to, you may ask? The market in crime fiction of course. But maybe some of you never thought they had to to begin with - after all we have always had a wealth of crime fiction emanating from the United States and from Britain, and you could add to that several others including the Italians and in recent times the Irish too. I have to say it IS great to see Irish crime fiction writing blossoming in recent years, a subject I really must blog about soon.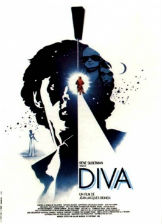 But there is another jurisdiction we must visit and pay tribute to also, and that is France. Crime fiction is hugely popular in France; I have read where it says one in five books sold there is a crime novel. As a bit of an aside, I recall many years ago seeing Diva (1981), that wonderful french film about a Parisian mail courier (Jules) in possession of two highly sought-after tapes: the first containing a rare recording of an American opera singer with whom he has fallen in love; the second is a tape slipped into his bag by a young woman just before she is murdered. The unwitting Jules finds himself being pursued by a gang of drug-dealers who will do anything to get their hands on the cassettes. A marvellous film, do borrow the DVD from the library when you get the chance (and sitting on the shelf in Pearse Street Library as I write!).
While that was probably my introduction to French noir, in more recent times you may have seen or heard of two famed french crime dramas, Spiral (4 series) and Braquo (2 series) (both links to Amazon). Having seen some episodes of these, it seems to me that the French go for a grittier and darker crime story, where the forces of law and order often seem not so squeaky clean, though in thinking that, I can't say that about the crime novels of one of my favourite authors, Parisienne Fred Vargas. I have written here before about Vargas, and to my mind she is one of the best crime authors writing today. Vargas's stories are always a little quirky, her style distinct and often infused with humour. While there is invariably an element of the supernatural, the surreal, in her stories, it is never such that they stretch incredulity. Her series starring Commissaire Adamsberg you will find a joy to read; do check the catalogue for books by Fred Vargas asap.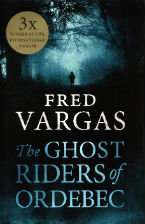 The seventh and most recent in the Commissaire Adamsberg series is The Ghost Riders of Ordebec 

. In this Adamsberg travels to Normandy following a visit from an old woman, intrigued by her tale of ghostly horsemen who, since medieval times, have returned time and again to inflict gruesome punishments on some of society's more unsavoury characters. And who now again seem to be wreaking a certain havoc on the village of Ordebec. But while the supernatural often serves to enrich and add intrigue to her stories, real world happenings invariably lie at the centre of events. In parallel, the death of a Parisian businessman, burnt to death in his car, occupies Adamsberg and his team's attention.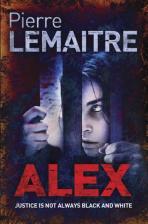 An author new to me is Pierre Lemaitre, and what an exciting discovery he has been! Alex 

 is the first novel in English translation by Lemaitre, and an excellent one it is. Not an easy book to put down this, it is easy to see why Lemaitre is held in such high regard in his native country. If you can see past the rather gruesome elements, you will see a well crafted, intricate plotline and a novel well worth your attention. There is suspense, there is tension; plus it can be dark and unsettling at times. To boot the characters, each and all, are well developed and of interest for different reasons, but none more so than the tough, resourceful and compelling heroine Alex and the diminutive, brilliant and driven Commandant Camille.
The story starts with a kidnapping and a race against time to locate and free the kidnapped woman. But as the story develops it twists and you begin to realise that efforts to predict its path and its outcome will be a waste of time. Your sympathies may be challenged, and you will be kept guessing 'til the end. To say anymore would be to reveal too much. This is a gripping read, quite different from most everything else I have read. I can highly recommend it, it gets top marks from me. 
Not a Frenchman but...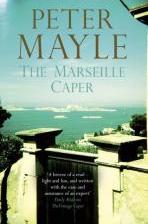 While not a Frenchman, British-born author Peter Mayle has been writing books about France for some time and is probably best known for his books about life in Provence. So it was with a certain curiosity that I picked up and started reading Mayle's 'The Marseille Caper'

, in the hope of it taking me to a setting that would enthral me and a story that would absorb me. Unfortunately, it did not quite live up to my hopes and expectations. As a crime novel it lacked suspense, furthermore I thought the dialogue weak, the characters uninteresting and the plot weak. It does have a beautiful setting and you do get fair mention of the local cuisine if you like that sort of thing (which I can do), but all the while I felt as though I was reading a travel writer rather than a true crime writer. Yes, this book might just be the thing to entertain you while lying on a beach in Cannes if you just want a light, relaxing and untaxing read, but I would still prefer to take a Vargas (or a Camilleri or a Leon for that matter) with me. The story itself is of Hollywood lawyer Sam who travels to Marseille with his partner Elena to champion a property tycoon's bid for a seafront development over two rival entries, and the shenanigans that thereafter unfold. But while danger beckons, you do know in your bones that this is going to be a happy ending sort of story. This is a follow up to the 'The Vintage Caper', but it does not seem necessary to have read one before the other. But I do hope you get more from it than I did, should you read it!
Other Suggestions
Other French crime writers that I have not yet read but may be worth checking out are Julia Kristeva and Dominique Manotti. One of my favourite crime blogs is Eurocrime, and it has a list of French crime novels, many of which it will have reviews of. The websites Crime Fiction Lover and crimetime.co.uk also have some suggestions.