Fun at the Rose Festival 2017
Published on 1st August 2017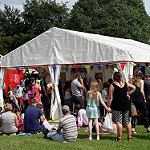 We had lots of fun in the library tent and mobile library at the Rose Festival in St Anne's Park Raheny on Saturday 15 and Sunday 16 July 2017. It was a busy day full of books and reading themed events, arts and crafts and performance.  Ruth Concannon, Reader in Residence at Dublin City Public Libraries read stories to younger children in our library tent and Book Advisors Patricia and Catherine enjoyed chatting to children about what they like to read and offering some book recommendations.  Lots of young readers dropped by to find out about the best summer reads and sign up for our Summer Stars Reading challenge.
We were delighted to meet the many people, including Dublin poet Pat Ingoldsby, who popped onto the mobile library for a browse and a chat.  The 'Go Fly Your Kite' team hosted a kite making workshop for older children and No Strings Theatre brought stories to life with their puppet show adaptation of 'The Gruffalo'. Many thanks to everyone who stopped by to say hello or to attend one of our events. See you next year!
The historic St Anne's Park in Raheny lies close to the coast on the north side of Dublin City. Situated in this park is one of the finest rose gardens in Europe. The 6 hectare oval garden has more than 25,000 rose plants, grouped according to type. Across the main avenue of the park lies the garden of miniature roses, completed in 1986.