Published on 22nd July 2011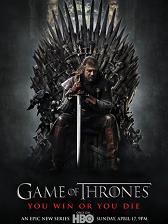 So I have to ask, was anyone else as glued to the Game of Thrones series as I was?  Oh man, it turned me from being fond of the series to completely caught up by it.  Eagerly awaiting the next episode to see what happened next.  I also managed to get my husband completely hooked on it and eagerly awaiting the next episode.
George R R Martin is an engaging man, I knit my way through a talk he did at Octocon where he was the guest of honour and I was very glad that the socks I was knitting weren't that complicated! 
We just got some new copies of the first book, Game of Thrones in, and if you're trying not to spoiler yourself for the rest of the series there's a Graphic Novel that involves some peripheral characters called The Hedge Knight and in the books Legends and Legends II where this story starts.
Westeros is a fan site with a lot of information and discussion and George R R Martin has his own website and blog
So now I'm looking forward to playing catch-up with the series, reading the books one by one. 
The books are in order:
A Clash of Kings (which was split up in some editions)
A Storm of Swords (again split up in some editions; Part 1 is Steel & Snow; part 2 is Blood and Cold)
A Dance with Dragons (which is just new in)
We do have some more copies on order of the earlier books as the series has given a boost to readership of the books!
If you're still looking to delay reading the next book in the series but want similar writers Who Else Writes like...? recommends R Scott Bakker; Juliet E McKenna; Maggie Furey; Stan Nicholls; James Barclay; Greg Keyes; Patrick Rothfuss; C J Cherryh; Scott Lynch and Harry Turtledove. (author links bring you to an example of the author's work in our catalogue)
Other recommendations I have seen include:
Tad William's The Dragonbone Chair
Guy Gavriel Kay's Summer Tree
Kate Elliott's Spirit Gate
Lois McMaster Bujold's Curse of Chalion
Raymond E Feist & Janny Wurts' Daughter of the Empire
Terry Brooks Shannara Series
Glenda Larke's Last Stormlord
Is there a Fantasy Series you'd like to see on the big screen? Or another fantasy series you recommend for fans of George R R Martin?
Yes I am ignoring the Tolkien shaped elephant in the room, I hope to talk about him a little more some other time.
And always remember, if you're looking for a book and we don't have it, ask, you never know what we might be able to do for you!  All the books linked to in this post were available at the time of the post.