Get the Full Article! Newspapers Online via the Library
Published on 2nd February 2016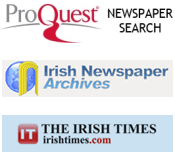 We have for some time provided online access in our branch libraries to the complete issues of Irish newspapers via our subscription to 'The Irish Times Newspaper Archive' and to the 'Irish Newspaper Archive'. Both subscriptions provide access to full digital copy and a search facility; the Irish Newspaper Archive giving access to most (all?) of the regional papers plus the Irish Independent and the Irish Examiner.
Important to bear in mind though that the most recent issues (in both subscriptions) may not be available, i.e. most recent daily will be some 7 to 10 days old, while weekly papers may not include the most recent issue.
A handy point of access to these subscriptions is provided on our Netvibes-based portal (note: both subscriptions available on library computers only).
ProQuest Newspaper Search

Now too we are providing access via ProQuest to the full-text articles in c.850 newspapers worldwide, including Irish national and regional papers.  The Irish national papers include The Irish Examiner (Jan 2011 - present), The Irish Independent (June 2006 - present), and The Irish Times (Jan 1995 - present).  Good to note that a look at some daily papers, Irish and others, indicates that coverage appears to include most recent issues, today's in some instances. Today's Irish Times, for example, includes some 150 items. The same cannot be said though for the regional papers, a check on a number indicates that the most recent issues included had a November or December date.
You should note that ProQuest does not give you access to the digital copy of a newspaper, but rather the full text of articles plus citations and abstracts. Good to note too that the articles of some newspapers that otherwise require a subscription to view (e.g. The Times in the UK) are fully available via the ProQuest database.
How do I access this wonderful new resource you might ask? Follow this link to ProQuest and insert your library membership card barcode number. That's it! And you can access it from anywhere!
Each issue of every newspaper is indexed thoroughly, so researchers have access to not only top news stories but also detailed information on sports, business, and the arts around the world.
ProQuest Title list (incl. period of coverage for each title) (this link will download an Excel spreadsheet).
This service is provided for the public library service by ProQuest,  with delivery arranged by Libraries Development, Local Government Management Agency. Visit the Libraries Ireland website.
View the full range of online resources available courtesy of your library.