Glasnevin hosts ghostly launch
Published on 1st November 2011
If you were passing the gates of Glasnevin Cemetery on Wednesday 26th October at about 6.30pm you'd be forgiven for thinking that ghosts were walking. Just as the moon rose eerily over the O'Connell monument, giving it an alien sheen against the darkening sky, small creatures with strange faces and stranger shapes moved through the famous 'Dead Centre of Dublin' and disappeared into the doors of the new Museum building.
As I joined in behind them, I couldn't help thinking that those clever people at Little Island publishing company had chosen the perfect place to launch their new series of spooky reads. For yes, the Glasnevin Museum was the scene of a book launch - four books to be precise - the first four in a new series for younger readers called The Nightmare Club. The books, all written by Annie Graves (pun intended) are; Dog's Breakfast, Guinea Pig Killer, Mirrored and Help! My brother's a zombie!




At the launch, as we supped on a suspiciously blood red drink, several young ladies claiming to be 'the real Annie Graves' read from her work - though several other, slightly less young ladies, started a whispering campaign that they, in fact, were the authors. Will we ever know? I wouldn't challenge any of them on a dark night, and definitely not in Glasnevin Graveyard.
According to the publishers, Annie Graves is a twelve year old girl, who has no intention of ever growing up. She is, conveniently, an orphan, and lives at an undisclosed address in the Glasnevin area of Dublin with her pet toad, Much Misunderstood, and a small black kitten, Hugh Shalby Nameless. You needn't think she goes to school – pah! – or has anything as dull as brothers and sisters or hobbies, but let's just say she keeps a large cauldron on the stove.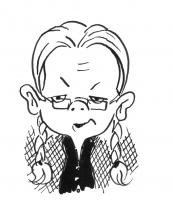 In Annie way (as we say in Dublin) you can borrow The Nightmare Club books from your local library now, and enjoy being scared witless!
Publisher's note: We did try to take a picture of Annie, but her face just kept fading away. We have sent our camera for investigation, but suspect the worst. However, artist Glenn McElhinney is very quick on the draw and did manage to make a sketch of Annie. Glenn also supplies the pictures for all four books.