Published on 24th July 2013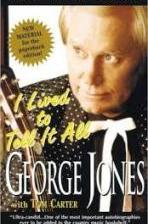 This year witnessed the passing of one of the greatest country singers who ever lived, Frank Sinatra referred to him as "the second best male singer in the world", George Jones.
His story is a dramatic rags to riches tale with broken marriages and alcohol problems, subjects which are often the content of country songs. 
His recent auto biography I Lived to Tell It All is available in Dublin City Public Libraries.
As a child he would play the guitar and sing for pennies. He rode on the bus for free because the driver would want to hear him sing. His first hit was White Lightening in 1959, even though he did not pen most of his own hits, like Elvis he was the great interpreter.
He is also known for his stormy marriage and music partnership with the famous Tammy Wynette. Their daughter Georgette Jones published a book titled The Three of Us giving an intimate account of the first couple of Country's tempestuous relationship, often fuelled by drugs and alcohol.
However, I think his previous work with Melba Montgomery is far superior. Although it is lesser known and not as commercial as the Wynette duets he does admit in the biography that himself and Melba did define the male, female duet sound. They attain the close harmonies that I have only ever heard family musicians achieve before. For Instance the Everlys or The Louvin Brothers. Check out George and Melba's sublime version of the Hank Williams classic House of Gold. 

Well, if that has whetted you appetite for some more information on Country Music, you can read this amazing book In the Country of Country: A journey to the roots of American Music by Nicholas Dawidoff.
Using interviews and research he gives an account of the lives and careers of American Music greats from Jimmy Rodgers to contemporary artists including Emmylou Harris and Iris Dement.
It is beautifully written and sometimes brutally honest.