From the GPO to the Western Front
Published on 3rd February 2016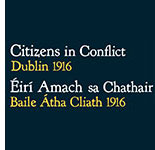 Citizens in Conflict #3. In 1914 thousands of Irishmen joined the British Army to fight in the Great War. They were motivated by a variety of reasons, some encouraged by their political leaders, others out of economic necessity. The huge casualties suffered in the first two years of the war greatly dampened enthusiasm for volunteering. By 1916 recruitment was slowing to a trickle and many would assume that the Easter Rising killed it off. But there are at least four intriguing cases of men who fought as Irish Volunteers in 1916 and who then subsequently joined the British forces and fought in the Great War.
Patrick Dalton, from Gloucester Street in the heart of Dublin's inner-city, had joined the Volunteers just two weeks before the Rising, inspired by a speech by Thomas MacDonagh. Dalton fought in the General Post Office (GPO), was captured after the surrender but he was released from custody because of his youth. However his employer, Dockrell's of South Great Georges Street sacked him because of his involvement in the revolt. Dalton then emigrated to England, where he enlisted and spent four years in the British forces. Returning to Ireland in 1922 he joined the Free State Army.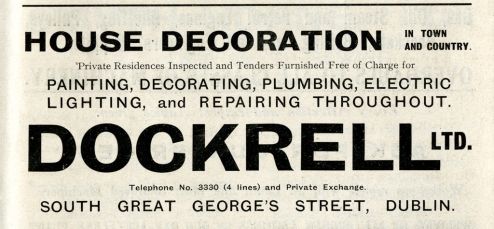 Above: Advertisement from Thom's Directory, 1917. (click to view larger image)
Michael McCabe came from a republican family, his father being an Irish Republican Brotherhood (IRB) activist. He had been a member of Na Fianna and was involved in moving arms and ammunition in the run up to the Rising. He served at Roes Distillery during the Rising and also managed to escape internment by virtue of his age. McCabe also emigrated to England and joined up there, serving until 1922. On his return to Ireland he joined the Anti-Treaty Irish Republican Army (IRA), was captured early in the Civil War and interned in the Curragh. After his release he went back to England and later rejoined the British Army.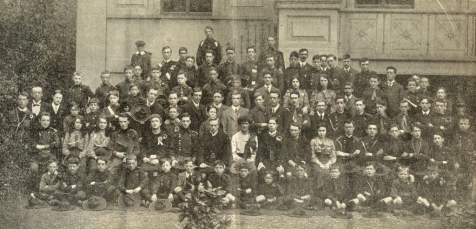 Above: Na Fianna, newspaper photo, August 1913. (click to view larger image)
John McQuaid from East Wall fought at Ballybough and the GPO. He was interned in both Knutsford and Frongoch until July 1916. Described by his commander Frank Henderson as 'a splendid Volunteer' McQuaid nevertheless then joined the British Army.
Patrick O'Moore from Drumcondra had been a Fianna member and was wounded in the GPO. He was interned in Frongoch until July 1916 and after his release joined the British Army. O'Moore served with the Machine Gun Corps in France and was wounded and gassed. He deserted during 1920, returned to Ireland and joined the IRA. During the Civil War he enlisted in the Free State Army but also deserted from that and joined the Anti-Treaty IRA. O'Moore was subsequently interned.
Discouraging recruitment to the British forces had been the policy of separatist organizations both before and after the Rising. Indeed sometimes men who joined the British Army were denounced by republicans as traitors. Yet these four Volunteers joined up after taking part in rebellion against the Empire.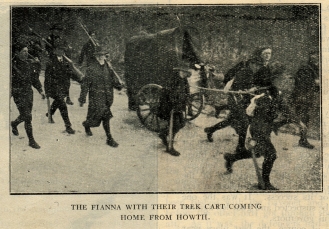 Above: Na Fianna, newspaper photo, 24 July 1915. (Click to view larger image)
O'Moore claimed that he had asked permission from his Volunteer officers to join the British forces to secure further military training. However whatever sense that idea might have made in peacetime, by 1916 it was clear many recruits would come back dead or injured. It was certainly not a policy usually pursued by the Volunteers by this stage. Those men who had been in Na Fianna had also sworn oaths not to join the crown forces. It would be unfair to question these men's commitment to republicanism a century on. All of them received 1916 pensions, which would not have been awarded without evidence of their participation in the revolt. (McCabe actually applied for his while serving with the British Army in Africa!) But the very fact that they could make the decisions they did testifies to the confusing and complex times they lived in.  It also should perhaps make us wary of assuming clear cut motivations for the thousands of men and women who took part in the revolution.
About
This article is one in a series created by Dr Brian Hanley, historian-in-residence at Dublin City Library & Archive, to coincide with the exhibition 'Citizens in Conflict: Dublin 1916 / Éirí Amach sa Chathair: Baile Átha Cliath 1916', running at Dublin City Library & Archive from January to June 2016.
Dublin Remembers 1916 Programme of Events | Hashtag: #Dublin1916
Lecture Series
Dr Brian Hanley presents a three part lecture series in Dublin City Public Libraries during February and March 2016 examining in detail the lead up to the Rising, what really happened over those momentous days and its impact on future generations. Part of the Dublin City Council 1916/2016 Centenary Programme.