Graffiti - Art or Vandalism?
Published on 16th December 2011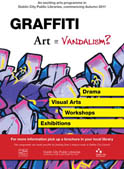 Using a variety of drama and visual arts programmes, young people from many areas of Dublin City will work with professional artists and writers to explore the question 'Graffiti – Art or Vandalism?'.
This programme of activities, presented by Dublin City Public Libraries, is aimed at educating children, whilst encouraging them to comment creatively on the social conditions in which they find themselves.
Seventeen libraries will participate in this ambitious public programme throughout the Autumn / Winter of 2011 and Spring 2012, using a broad range of learning strategies to deliver this very important message.
Film maker Killian Waters will document the project on behalf of Dublin City Public Libraries.
Programmes include:
A specially commissioned play by Garbo Productions
Two visual arts programmes, Meeting Point and the creation of a mural on a library wall
A drama programme, Creating Creative Communities – Mantle of the Expert
Anti-graffiti workshops from Graffiti Wipeout