Published on 27th January 2016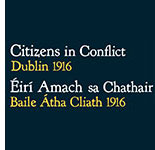 Citizens in Conflict #2. A controversial incident occurred on Easter Monday at Beggars Bush. The 1st Dublin Battalion Associated Volunteer Training Corps were part-time reservists, many of them middle-aged professionals. The 'Gorgeous Wrecks' as they were nicknamed wore civilian clothes and an armband emblazoned 'GR' (Georgius Rex).
On Easter Monday they were on exercises in the Wicklow Hills, heard about the rebellion and marched back to depot at Beggar's Bush in two columns. They came under fire on Northumberland Road and suffered four killed and several wounded. A larger column, nearly 100 strong managed to get to the barracks and eventually engage the rebels. It was widely believed that the GRs had either no weapons or rifles with no ammunition. Among Dublin's loyalist population it was asserted that 'They made no demonstration against the rebels, and were shot down without any warning.'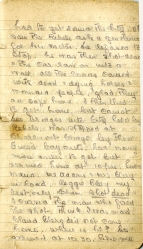 The dead were F. H. Browning, Reginald Clery, John Gibbs, Thomas Harborne and James Nolan. G. Hosford was shot by a sniper at Beggar's Bush and died later. Browning was a graduate of Trinity, president of the Irish Rugby Football Union, an outstanding cricketer and had founded the Irish Rugby Volunteer Corps. A diary compiled by Herbert Victor Fleming during Easter Week 1916 refers to the death of his 'best and only chum' Reggie Clery.
However Volunteer officer James Grace was unapologetic about the action: 'Early that afternoon a Company of GRs approached from the direction of Ballsbridge. We opened fire on them and they scattered and retreated. Here I would like to say a word to those who condemn us for firing on them. The local Company of these GRs made up from Ballsbridge and the vicinity, numbered about thirty and for some weeks previous to the rising they held parades from Baggot Street at about 5.30 each Saturday. There were about thirty in the Company, about twenty armed with Italian rifles and ten armed with Lee Enfield rifles, and the plea has been made that these Yeos were not armed and had no ammunition, but that is false. I had made it my duty to keep these under observation each Saturday at the time named and I saw them carry arms and ammunition. After we fired a couple of rounds Lieutenant Malone ordered us to cease fire so that the wounded could be removed.'
Grace also argued that the GRs had orders to attack the rebels if they got the opportunity: 'While we were covering the gates of Beggar's Bush Barracks two men, one elderly, the other young, approached us, and the elderly man tried to induce Paddy Roe to let him look at this rifle. I had my bayonet fixed and I told the man to stand back. He persisted, however, and advanced a few steps towards Paddy Roe and tried to take the rifle from his hands. I immediately put the bayonet up to his throat and I told him to stand back. He put his hand in his breast pocket and pulled an old bulldog revolver and was just going to shoot when I pressed the bayonet against his throat. The younger man jumped between us and said, "it's alright, Sergeant, don't shoot my father". I afterwards found out that this man was a member of the GRs, a pro-British territorial organisation which corresponded to the Yeos of 1798. His name was O'Connell and I was guilty of a dereliction of duty in not killing him or in disarming him through mistake in leniency. I heard afterwards that the GRs had instructions to rush and disarm Irish Volunteers when alone or in small numbers.'
Whatever the exact truth of the incident (and the Volunteers would not have known whether the GR's rifles were loaded or not) it points to the reality of political and social division in Dublin and also to a potential for inter-communal strife.
About
This article is one in a series created by Dr Brian Hanley, historian-in-residence at Dublin City Library & Archive, to coincide with the exhibition 'Citizens in Conflict: Dublin 1916 / Éirí Amach sa Chathair: Baile Átha Cliath 1916', running at Dublin City Library & Archive from January to June 2016.
Dublin Remembers 1916 Programme of Events | Hashtag: #Dublin1916