Published on 26th June 2020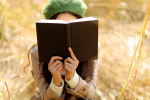 When my parents discovered the Happy Pear in November 2019, I thought to myself, 'this is going to be another one of their phases'. For instance, a few years ago my father took up jam making. It's not that my parents can't cook. On the contrary, they can cook, very well! It's that, when they decide that they like something, they throw themselves wholeheartedly into it… and then two months later, they have moved on. The jam sugar with added pectin… well, it's still in the press.
So who could blame me for being a tad sceptical, when my mother asked me to borrow two Happy Pear cookbooks from BorrowBox? Being the dutiful daughter that I am, I did.  For those of you who haven't heard of the Happy Pear, they are Irish twins, David and Stephen Flynn. They have written several cookbooks on Vegetarian and Vegan cooking. Part of their philosophy is to get people to eat more fruit and veg and in order to accomplish this; they have made their dishes as tasty and appealing as possible.
The Happy Pear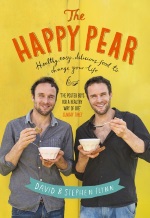 The first book that I borrowed was "The Happy Pear''.  It's the first cookbook by the duo, and I can see why it's a bestseller! First, it's packed full of colourful photos showcasing their dishes. It's really important to me as a reader that I have a good idea of how the finished product should look. The book is divided into sections, breakfasts, soups, mains etc. It's easy to navigate and the ingredients are simple and inexpensive to source.
I have tried many, but not all of their recipes. One of the recipes that stood out to me is the 'Falafels with Red Pepper Relish'. What I love about this dish is that it is tasty and easy to make. It's light and perfect for summer. Another favourite of mine is their 'Thai Coconut, Sweet Potato and Lemongrass Soup'. This recipe has minimal preparation time; it's ideal for mid-week lunches. Also, check out their 'Happy Pear House Salad With Pumpkin Seed And Parsley Pesto'. It took me fifteen minutes to prepare and it's super tasty! What more could you ask for? The final chapter of the book includes a glossary of the pair's favourite ingredients that they use in their recipes. It explains what each ingredient is and why you should incorporate them into your diet. All in all, for a debut cookbook, this one is a hit!
The Happy Pear: Recipes for Happiness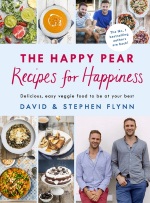 The second book that I borrowed was "The Happy Pear: Recipes for Happiness''. In my opinion, this cookbook contains more summer recipes than it's previous counterpart. Which is perfect, because we are right in the middle of summer! One of my favourite recipes in the book is the 'Ultimate Fifteen Minute Burger'. The burgers can be cooked in the oven or on the barbecue, so you can enjoy this delicious recipe all year round! I can't get enough of their ''Meatball' Sub'. It is a versatile recipe that works well for both lunch and dinner. Also, I would recommend that you try the duo's 'Quick-Fire Burritos'. It is one of their tastiest recipes and has become quite the go-to recipe for me. It's so quick to make and if you are on a budget, you can't go wrong. I am also a huge fan of their 'Gluten Free Bread'. It's healthy, tasty and great with homemade jam. A major selling point for me is that their recipes are inexpensive- they work on any budget. The Happy Pear even includes a chapter in the book on budgeting and meal planning. They show the reader how to prepare a week of meals on a small budget. The meals are tasty, healthy and don't break the bank! I really enjoyed this book. It's definitely a firm favourite of mine.
Access eBooks/eAudiobooks on your phone, tablet or reader. Once you have installed the app, search for Dublin in the 'Library' field provided and then sign in using your library membership card number and PIN. Watch our how to video on Borrowbox. Members of other library authorities will need to log in using a different link.
Submitted by Eimear from Raheny Library.