Harry Potter, Dublin style!
Published on 17th January 2012

Dublin City Public Libraries and Dublin UNESCO City of Literature today, Tuesday 17th January, launched 'Children Save Dublin', the city's first ever children's citywide reading project.
Similar to the highly successful Dublin: One City One Book festival, but aimed at children from 4th and 5th classes, children across Dublin will be encouraged to read, talk about and have fun with the same book over January, February and March 2012.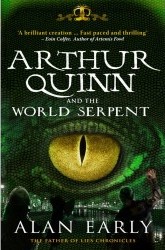 The book chosen is 'Arthur Quinn and the World Serpent' (links to catalogue), by first time Irish writer Alan Early, a new and fresh voice in Irish writing. Arthur Quinn is one of the most exciting new adventure stories published in Ireland in the last few years and was shortlisted for the Irish Book Awards 2011. Fast paced and thrilling, this is a book which will get Dublin children excited about reading and has been described as Harry Potter - Dublin style.
The book is set in the Dublin of today, featuring the Metro North tunnels while harking back to Viking mythology as the children unleash a Viking god. The action takes place on the streets of Dublin and the project gives plenty of scope for activities which will spark interest in the book and reading itself.
Children are encouraged to attend associated events in city libraries and schools during the mid-term and afterwards as part of the project. Children can also engage online with the author via a special interactive website which includes games and a blog related to the story. Alan Early will visit schools and libraries during the three month festival, engaging with the children and helping them discover the secret of how to defeat the World Serpent!
The project will conclude with an exciting event taking place at Connolly Station as part of St. Patrick's Festival in March. A serpent- themed train will host a variety of children's activities including workshops, fun question and answer sessions with the author and much more!