Historical Fiction eAudiobooks
Published on 28th April 2020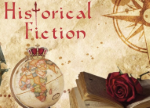 What is the special appeal of historical fiction? I know that for me it offers an extra layer of escapism and storytelling that is one of the reasons I love to read. History already has all the best storylines and drama! I am a recent convert to eAudiobooks – the BorrowBox app is easy to use, all you need to do is log on with your library card and pin, download and listen. I can't imagine any greater luxury at the moment than to just sit, listen and be entertained.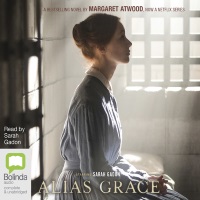 Alias Grace by Margaret Atwood and read by Sarah Gadon
Mid 19th century Canada – servant girl Grace Marks is only sixteen years old when she is convicted for her part in the murders of two people. She claims to have no memory of the event but is nonetheless given a life sentence. Years later she is asked to tell her story to a doctor leading a group of reformers seeking a pardon for Grace. Based on a true story, this fascinating and colourful story grips from the start to the finish.
Sarah Gadon who played Grace Marks in the recent Netflix adaptation narrates the eAudiobook.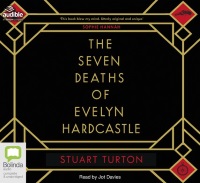 The Seven Deaths of Evelyn Hardcastle by Stuart Turton and read by Jot Davies
A special treat for fans of golden age detective writers, this murder mystery is set in a big house, there's a crumbling mansion, a ball, heaps of butlers and assorted servants, intrigue, revolvers, mistaken identities, mysterious letters – literally everything you could wish for in a gloriously daft concoction….but wait…this book also has an original and compelling hook: the main character has to relive the same day 8 times to try and stop the murder but each time in the body of a different character.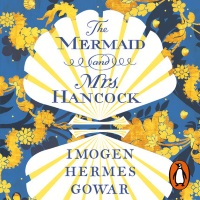 The Mermaid and Mrs Hancock by Imogen Hermes Gowar and read by Juliet Stevenson
An atmospheric and spellbinding romp through Georgian London that contains the barest hint of magical realism. Immersive prose and rich historical detail makes this an absorbing read. When widowed merchant Jonah Hancock finds himself in possession of a mermaid, he quickly becomes the talk of the town. And when his path crosses with courtesan Angelica Neal, his life changes trajectory but in a way that neither of them were prepared for. (Also, I would listen to almost anything if Juliet Stevenson read it aloud to me.)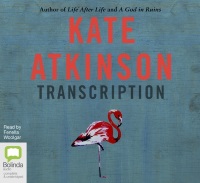 Transcription by Kate Atkinson and read by Fenella Woolgar
Initially set in the world of British espionage during WW2 when the book opens in 1940, it follows the main character Juliet through to the 1950s and 1980s, jumping backward and forward in time. The choices made by eighteen year old Juliet when working as part of an agency to secretly monitor British Fascist sympathisers will echo through the rest of her life. This is an immensely satisfying and enjoyable novel to read, Kate Atkinson is such a skilled writer that the surprises when they come are wholly unexpected and there is a genuine tension for the reader.

Access eBooks/eAudiobooks on your phone, tablet or reader. Once you have installed the app, search for Dublin in the 'Library' field provided and then sign in using your library membership card number and PIN.
Watch our how to video on Borrowbox.  Members of other library authorities will need to log in using a different link.
Submitted by Jessica in Cabra.