Published on 16th February 2018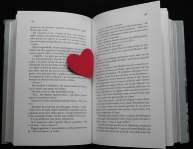 I love books; reading books; buying or borrowing books; thinking about what I'll read next, and of course, talking about books . I think I've been part of at least one book club (if not two or three) for the last ten years. Whether its friends, colleagues, my local library or part of an independent bookshop (shout out to Bob in the Gutter Bookshop for the excellent book clubs he runs!), being in a book club has always seemed like a great way to share an experience that can be so personal and make it communal.
As a Historian-in-Residence working with Dublin City Council and through Dublin City Libraries it made perfect sense to me to bring the two together… History + Libraries = a new History book club! But would the book club format work for history books? With fiction, the standard genre for any book club, it's all about your opinion. Did you like the book, the characters, the plot, the style of writing…etc. You don't have to be an expert on the subject of the book to discuss it. Whereas with a history book club would people feel that had to already be familiar with the historical content of the book before giving their opinion on it? There is such a huge interest in history in Dublin; in local, Irish and international history, I thought I'd take a chance. So began two new History book clubs in Terenure and Pembroke Libraries. So far they've been going great!
We started off with Lucy McDiarmid's At Home in the Irish Revolution which both groups found interesting if challenging to read the whole thing. Since then we've read a great variety of books, on different time periods, different parts of the world, and different styles of writing history. All of these books have been available to borrow through the brilliant service of Dublin City Libraries.
We've discussed each book with an open mind, looking at the sources used, the style of writing and how convinced we were by the historians arguments. We've gone from Ireland to Russia, China, the Americas and back again!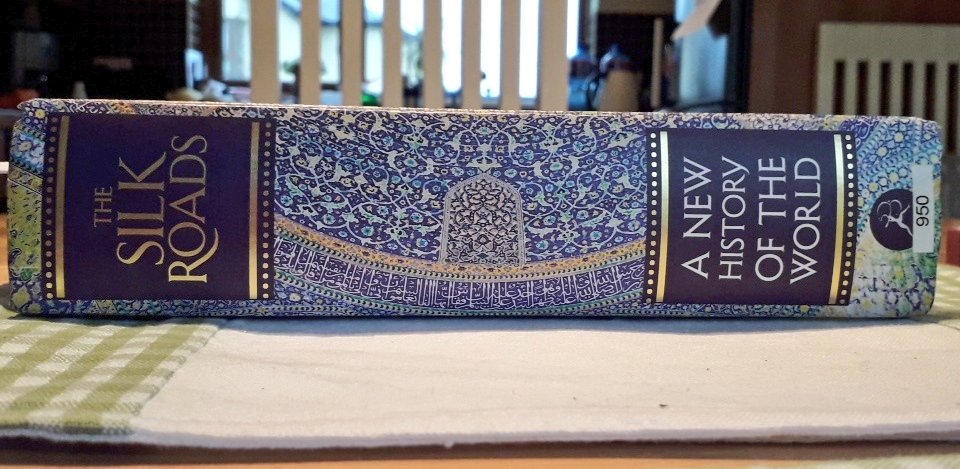 I also took the opportunity to tweet Irish historian Marie Coleman (Queen's University Belfast) to let her know one of our monthly books was The Irish Sweep: A History of the Irish Hospital Sweepstakes. She was delighted to hear this and asked the group for their opinion and feedback.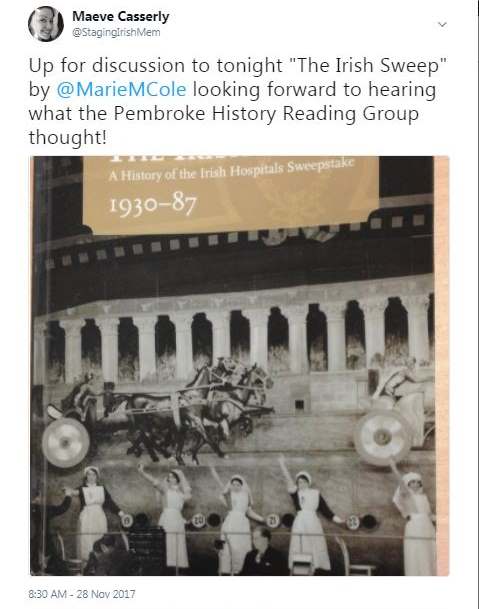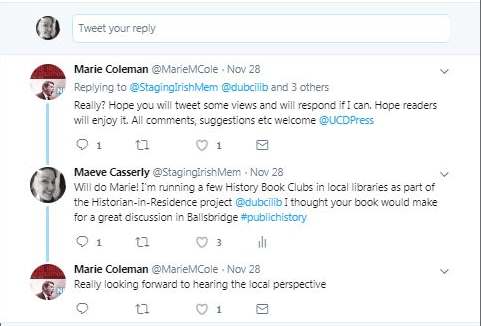 All of these fascinating history books have been discussed at our monthly meetings in the branch libraries which have been so wonderfully facilitated by the branch librarians (without whom this wouldn't have been possible!).
Here's to many more history chats in the future!
Maeve Casserly, Historian-in-Residence, Dublin City Council
Tags: