History on your Doorstep Volume 3
Published on 20th November 2020
21st November 2020 is the 100th anniversary of Bloody Sunday, a day of extreme violence when 32 people were killed in single day in Dublin city.
At 9am on the morning of 21 November 1920, Michael Collins' IRA gunmen killed 15 suspected British intelligence officers at various sites across the city. In the afternoon Crown forces opened fire on the crowd at a Dublin v Tipperary Gaelic football match in Croke Park killing 14 people, including 3 children and a Tipperary player. Later that night Conor Clune and IRA senior officers Dick McKee and Peadar Clancy were killed in Dublin Castle while in custody there.
To mark the centenary of this important day in our history, Dublin City Libraries has created a commemorative programme:
History on Your Doorstep volume 3 – Bloody Sunday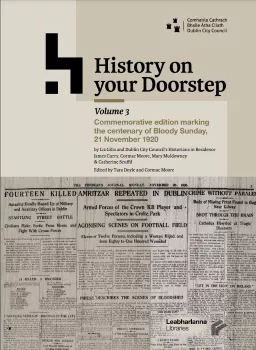 Dublin City Council's Historians in Residence (HIRs) and historian Liz Gillis, have written a special commemorative edition of the popular series History on Your Doorstep dedicated to Bloody Sunday. The book is free and will be available to pick up in any Dublin City Library once public health restrictions permit branches to open again. An electronic (pdf) version of the book is now available. The book covers various aspects of the day and its aftermath with chapters on:
'We have Murder by the Throat': Bloody Sunday 21 November 1920 by Liz Gillis

Croke Park on Bloody Sunday, 21 November 1920 by Cormac Moore, HIR Dublin Central Area

Bloody Sunday 1920 in the Press by Mary Muldowney, HIR for the Central Area

Dick McKee: 'A Famous Finglas Patriot' by James Curry, HIR, Dublin North West Area

After Bloody Sunday…Murders, Raids and Roundups by Catherine Scuffil, Dublin South Central and South East Areas
The book will be launched by the Lord Mayor of Dublin at 7pm on Saturday 21 November at an online event which will also feature an illustrated presentation on Bloody Sunday and the killings of Dick McKee, Peadar Clancy and Conor Clune followed by a Q&A session with the authors of the book. The Minister for Tourism, Culture, Arts, Gaeltacht, Sport and Media, Catherine Martin will participate. This is event is free but please register to attend.
Dublin City Libraries has produced an online exhibition about Bloody Sunday which is available in Irish here as well as a podcast and reading list on Bloody Sunday.
If you want to read more about Bloody Sunday you can borrow the books on the reading list from your local library and the revised edition of Michael Foley's compelling book on Bloody Sunday "The Bloodied Field, Croke Park 21 November 1920" is available in lots of our branches.
Tara Doyle
Decade of Commemorations Team, Dublin City Libraries