If ever you go - My Daddy likes the Dubs
Published on 10th April 2014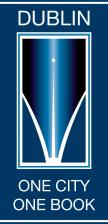 Dublin's Lord Mayor is called Carmencita,
Whose favourite food is tomato pizza.
So wrote Sarah Fallon from Malahide in 1988, in a poem included in an anthology called My Daddy likes the Dubs.  It is one of a number of collections of poetry written by Dublin children which are held in the Special Collections of Dublin City Library and Archive. As this year's One City, One Book selection highlights poetry based on the theme of Dublin and Dubliners, we took a look at some of these child's eye views of the city.

My Daddy Likes the Dubs is a collection of children's verse compiled during the Dublin Millennium by Dublin Public Libraries. During 1988, the city celebrated its 1,000th birthday with a year-long programme of cultural events. At that time the Public Library Service encompassed all the Dublin regions, so the selection – chosen from over 3,500 submissions – includes the work of children from all over Dublin City and County. What is striking about the poems is the delight the children take in their city and their keen observations of their localities. It would be interesting to see if a collection like this, written today, would demonstrate this same knowledge of the geography of Dublin and the same pride in their local area.
As the city was celebrating its Viking heritage during 1988, Vikings figure in many of the poems. This one by Eimer Lillis of Malahide credits the invention of Guinness to the ingenuity of our Scandinavian forebears:
Said a crafty young Viking called Jack,
By the Liffey he lived in a shack,
From this water that is bubbling,
In this place I'll call Dubh Linn,
I'll create a fine stout that is black!
Other writers noted that some Viking traditions remained alive (and kicking) in Dublin. Margaret Daly of Churchtown wrote a poem called True to Form, which ends:

So now you see Viks
Do wheelies on "Bikes"
Forget their forefathers – no way,
With muggings and murders
Warfare with their brothers,
They relive the full past to this day.
But the gem of the collection is surely the ballad of Molly Malone's Date, by Lorna Patterson of Dundrum, in which those two iconic Dublin figures, Molly and Bono, head out on the 44 bus to see Burt Reynolds at the Savoy. The story ends with a tragic twist:
Molly is getting married tomorrow
Bono's the best man much to his sorrow
For she's found someone more to her liking
Molly is marrying Hagar the Viking.
The poems present a vivid picture of a child's life in Dublin in the 80s: the writers describe with evident pride their local entertainments - discos, swimming-pools, libraries and for the 'aul' ones', the Bingo. The title poem, by 8 year old Lisa Williams of Ayrfield, begins with the sharply observant line:
My daddy likes the Dubs
Because then he can go to pubs …
Shopping also played an important part of Dublin life, as Susan Rooney, from Ballyfermot, notes:
Grafton Street's a wonderland and Dublin can be heaven,
And there's not the like of Henry Street,
And Moore street for the sellin'.
A marathon trip to Dublin to buy a confirmation suit is recorded in A Day in Dublin by Edward Fay.  After trying to find a suitable outfit in every shop from Thomas Street to Grafton Street, taking time out in Bewley's along the way, the writer and his mother finally strike gold:
Then we came upon a little shop,
Up by Parnell Square
And we got my entire outfit
For next to nothing there.
Some of the teenage writers, however, seem already disillusioned with consumer society. Alex Moffatt of Killiney gives a rather bleak description of the city, telling us that:
Advertising hoardings scream voiceless slogans that
Prey upon the gullible.
Teenage angst and social commentary are also evident in Millennium Dublin by Carol Keogh of Ballyfermot:
 - Communities, prized apart
By concrete borderlines, rallied
In anger.
Even in the more light-hearted poems social issues come through: and employment certainly was an issue in 1988. Peter Bennett of Inchicore noted that the "corpo" had done a clean-up of the Camac River, and that:
With the Mackintosh factory working full-time
Everyone is singing a happy chime.
Each poem has its own especial charm; the collection, like the others listed here, is available for reference in Dublin City Library and Archive Reading Room.

A slightly later collection, Spring Song, edited by Pat Tierney and written by the children of the Ceannt Towers Rhymers Club, has a specifically local take on superheroes. In a poem by Alan Kinsella, Batman Visits Ballymun, the hero is almost foiled when he and Robin enter one of the Towers:
They tried to get up in the lift
But found that it was broke,
And when they started up the stairs
They smelled the Joker's smoke.

Other children's  poetry collections in the Special Collections include Millennium Bug, produced by the Northside Arts and Cultural Centre and written by Coolock children in 2000 and the Solidarity Between Generations Diary (informally known as Oldies not Boldies) published by Dublin Public Libraries in 1994.
But let's give the last word to Sheila Lynch in a poem from My Daddy Likes the Dubs:
…  It's a long way to Tipperary,
It's further to Donegal,
But why would you want to go there
When Dublin's got it all.