iFestival at the Central Library
Published on 3rd June 2011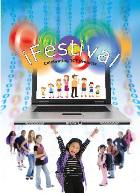 The annual iFestival will be held in the Central Library, Ilac Centre from the 10th to the 30th of June 2011. This interactive exhibition will showcase the highly innovative ICT and multimedia projects undertaken by pupils in primary and secondary schools, as well as young people from community centres in Dublin's inner city. The festival, involving the work of 800 young people, will be launched in the Central Library on Friday June 10th at 12pm.
Projects will include comic making, animation, robotic lego, podcasting, computer games and multimedia. Prizes are awarded for the best entry in each category. The projects represent the culmination of a year's work by these young pupils, their teachers and facilitators under the CLIC programme - the Computer learning in Communities programme, run by the DIT Foundation. The programme co-ordinator is Ian Roller. This initiative encourages teachers to integrate information technology into the curriculum not only to enhance their IT skills but also to make learning fun and enjoyable. Students involved have shown an improvement in attendance at school as well as increased concentration and motivation. The CLiC programme is just one aspect of the DIT Community Links programme whose main objective is to alleviate educational disadvantage and to allow individuals to reach their maximum potential.
 Some of the schools exhibiting this year are: St Patrick's GNS, Rutland National School, St Audoen's NS, St Vincent's GNS and Mater Dei, Basin Lane. The community groups include John Bosco Youth Centre, Fatima Community Centre and Dominick Community Centre.
We in the Central Library are very happy to support such a worthy initiative, but don't forget, it's also a fun exhibition!