The illustrations of John Tenniel
Published on 22nd February 2014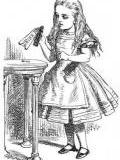 Sir John Tenniel died just one hundred years ago, on 25 February 1914, aged 94 (see The Irish Times, Friday 27 February 1914, p.7). Tenniel was chief political cartoonist with Punch, the satirical weekly magazine, but he is best known to generations of children as the creator of the pale blonde Alice in Lewis Carroll's Alice in Wonderland. He was born on 28 February 1820 in Bayswater in London. He was invited to join Punch by its founding editor, Mark Lemon, at Christmas 1850 and worked there until his retirement in 1901. He was knighted by Queen Victoria for artistic achievements in 1893.


For over twenty years he earned his reputation as a gifted illustrator of books. His first success came in 1848, when he received acclaim for his illustration of Aesop's Fables. He illustrated R.H. Barnham, The Ingoldsby Legends (1864), and he contributed pictures to the Dalziel Brothers edition of The Arabian Nights (1863-5). Lalla Rookh by Thomas Moore is a series of oriental tales in verse connected by a prose narrative, first published in 1817. It became one of the most popular works of the century. Tenniel illustrated an edition of Lalla Rookh published in 1861. The Dublin City Library & Archive copy is signed by the illustrator, and dedicated to Mrs Lemon, wife of Mark Lemon, Tenniel's editor at Punch.

Because the animal illustrations in Aesop's Fables appealed to him, Tenniel was commissioned by Lewis Carroll (Rev. Charles L. Dodgson) to illustrate the first edition of Alice's adventures in wonderland (1865) and Through the looking glass (1871). The initial print run of 2,000 copies of Alice's adventures was withdrawn as Tenniel was unhappy with the quality of the illustrations, Dodgson withdrew his presentation copies and gave them to Great Ormond Street Children's Hospital and the remaining copies were distributed in the United States, with a new title page tipped in. The illustrations in the republished edition were a great success and received as much critical notice as the text. Even though Alice has been illustrated by many well known artists, including Arthur Rackham, Tenniel's portrayal of Alice and the other characters, such as the White Rabbit and the Cheshire Cat, have an enduring appeal.
Through the looking glass was his last illustrated book. His illustration for the two Alice books are among his very best work. His drawings were engraved by the Dalziel Brothers who did justice to his original drawings. Check out your local library for the Alice books.