Interview with Paul Anthony Shortt
Published on 27th June 2013
I have been meaning to do this more often but it's a busy time for many of my author friends (thankfully) so I haven't been doing these as often as I want to. If you know a genre writer who would like to answer my questions feel free to send their email to me and I'll approach them, particularly if we have any of their books in stock.
I met Paul at Octocon and enjoyed several of the panels he was on.

A child at heart who turned to writing and roleplaying games when there simply weren't enough action figures to play out the stories he wanted, Paul Anthony Shortt has been writing all his life.
Growing up surrounded by music, film and theatre gave him a deep love of all forms of storytelling, each teaching him something new he could use. When not playing with the people in his head, he enjoys cooking and regular meet-ups with his gaming group.
He lives in Ireland with his wife Jen and their dogs, Pepper and Jasper, and their daughters, Erica and Amy.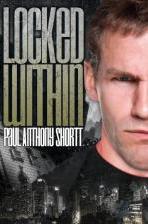 Paul's first novel, Locked Within, was released on November 6th, 2012, by WiDo Publishing. The sequel, Silent Oath, will be released in 2013.
1. So what kind of fiction do you write?
 I write fantasy, primarily urban fantasy but I have a number of future projects in mind which will branch out into other areas.
2. Why?
I love the freedom in urban fantasy. Almost anything goes, so as an author I'm free to come up with any kind of story I want. I also love combining and contrasting modern-day settings and themes with more traditional fantasy. There's a lot to be said for a sword-wielding hero racing to save the day in an SUV!
3. How long have you been writing for?
Professionally, only a couple of years. However I've been writing for myself since I was about 12, when I came up with my very first fantasy story.
4. What is your library history like?
I loved hanging around in my local library when I was a child. My parents would take me down every weekend and I'd pick out books ranging from horror to history.
5. Does it give you a special thrill to see your books in your local library?
Absolutely. Libraries provide such a great chance for people to try out new books, especially children. I write mainly for adults, but my books are perfectly suitable for teenagers, and I love the idea that someone, still finding their preferred genre, might pick my book off the shelf and give it a try.
6. Do you visit your local library often?
Not as often as I'd like. Between writing, my day job, and raising twin baby girls, it's hard to make the time. 
7. Have you ever lurked near your books in a library or bookshop if someone seems to be interested?
So far I've resisted that temptation! I don't think I'd be very good at hiding my excitement if I saw someone leafing through one of my books. I'd probably look pretty creepy with a huge grin on my face.
8. Do you do readings in libraries, how do you find them?
I haven't yet, but I'd love to! I really enjoy readings. They're a great chance to get honest feedback from readers.
9. Have you ever reserved your own book just to prove it's in stock?
I haven't. But I have pitched in contacting places to ask if they'll stock it.
10. Did you have a favourite author as a kid?
I practically grew up on Christopher Pike books. I went through all the ones in the library, then all the ones I could find in bookshops.
11. List five favourite authors (who aren't you!)
Jim Butcher, Hannah Moskowitz, Janice Hardy, Linda Poitevin, Kiersten White
12. Are there any Irish authors you recommend looking for?
Celine Kiernan and Ruth Long. Their books are on my reading list since I met them at last year's Octocon. They're both wonderful people and helped make my first Sci-Fi/Fantasy convention a great experience.
13. Do you have an alias? Why?
I did some fanfic under the screen-name Wordmaker, which actually wound up on the website www.tvtropes.org, but for my professional writing, I always wanted to use my real name. Partly due to pride, I guess - I wanted to see my own name on the cover of my books, but also because I feel that it's increasingly difficult to actually keep your real identity secret as an author.
14. Do you go to any Irish Conventions?
I went to my first Octocon last year as a panellist. It's Ireland's annual science fiction and fantasy convention. Lots of fun and some really great people attend each year. I'm also going to be at Shamrokon, Ireland's turn hosting the big European SFF convention, Eurocon.
In addition to that, I go to gaming conventions such as Gaelcon and Vaticon every year.
15. Do you have any hobbies outside of writing?
I'm a passionate gamer. I've been gaming almost as long as I've wanted to be a writer, and I have a group that meets up weekly to play table-top roleplaying games.
16. Is there anything that you would like to see Irish Libraries do?
I'd like to see more organised readings, like having a group of authors come along to give readings in a single afternoon, or hosting writing workshops.
Given that there are so few book competitions in Ireland, libraries would be in a good position to host such events. I think most authors, myself included, would be happy to get involved just for the experience and increased exposure.