Published on 6th January 2014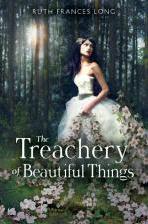 The series of interviews I have been doing with authors was actually inspired by a conversation between Ruth and I about a year ago.  Unfortunately her previous books proved impossible to source with our suppliers, and Treachery of Beautiful Things was difficult, but we persevered and it is in stock.
Ruth and I know each other online and through several conventions, we're both librarians, fantasy lovers and lovers of old books, only she gets to work with them in her job.
1. So what kind of fiction do you write?
All kinds of fantasy, for people of all ages.
2. Why?
I love magic in my stories. I love a sense of the fantastic, the numinous, the wonder whether it's in a new world or something to be found in everyday life.
3. How long have you been writing for?
As long as I can remember.
4. What is your library history like?
I'm from a family of readers, and we always belonged to our local library. I still do and now have the great pleasure of letting the library keep my children in reading materials because trying to do so myself would bankrupt me! Working in libraries, and having worked in public libraries in the past, gives a very real sense of how important a place a library is.
5. Does it give you a special thrill to see your books in your local library?
Definitely.
6. Do you visit your local library often?
Every week, more or less.  I may have mentioned my kids are voracious readers. They'd go every day if they could.
7. Do you use the interlibrary loan system in your library service (well I might as well get a minor plug in!)
Yes. I have books on reserve right now! ;) It's a fantastic facility, especially when it comes to some of the more tricky to get research books.
8. Have you ever reserved your own book just to prove it's in stock?
No, but you're giving me ideas now... ;)
9. Did you have a favourite author as a kid?
Susan Cooper, Alan Garner, Enid Blyton, J. R. R. Tolkien (well I started reading him as a kid)
10. Have you read those books again as an adult?
Yes.
11. What was it like? Did it stand up to adult reading?
The Dark is Rising sequence was as brilliant as I remember. I still don't understand Red Shift but love Garner's language. I recently read his adult sequel to the Alderley Edge trilogy, Boneland, which was phenomenal and I will have to reread several times. Such an incredible book. Tolkien is a lifelong read, and I read Blyton with my kids.
12. List five favourite authors (who aren't you!)
Neil Gaiman, Terry Pratchett, Sarah Rees Brennan, Susan Cooper, Stephen King
13. Have you read any books about Ireland that made you laugh/cry/breathe smoke?
Many. It's one of the reasons I'm quite nervous about writing stories based in other cultures. I've seen how wrong it can go. Quite often it's something as little as the way a character speaks. I have a horror of that "Oirish" accent. Hopefully as I am now writing about Ireland I'm getting it right. A Crack in Everything is a YA urban fantasy set in Dublin, which will be released next year from O'Brien Press. I drew in a lot of my own local knowledge writing it but then discovered there were many things I needed to follow up on and double check. I'm writing book 2 at the moment and rooting out more Dublin folklore, settings and stories to use.
14. Do you read any genres outside what you write? Deliberately?
The story is the most important thing to me so yes. I'm a big fan of thrillers and historicals. It's not so much deliberate as that I read what I enjoy so that doesn't have to limit me to one genre. It's refreshing and often gives me ideas. One  story I'm working on at the moment was inspired by a book on England's medieval queens.
15. Do you go to any Irish Conventions?
Yes, Octocon and Pcon annually. I've also been to Wexworlds and TitanCon. I'll go wherever I'm invited basically!
16. Do you go to any non-Irish Conventions? Any favourites or recommendations?
I go to the Romantic Novelists Association annual conference. Not a convention as such but one of the most valuable weekends away for me as a writer. I'm heading off to London for Worldcon next year, with a quick turnaround to be back here for Eurocon in Dublin (called Shamrockon) the following weekend. Very excited about that, and the possibility of a Worldcon in Dublin in 2019. But basically the same thing goes - if someone invites me I'll go.
17. Do you have any hobbies outside of writing?
I knit a little (badly), make jewellery occasionally, draw (not in a while). It's all quite intermittent. I love to cook, which I have to do on a daily basis. The problem is I never know when a story is going to hook me and pull me away from a hobby. And there have been a few charred dinners in our house. I also like walking and exploring forests and hills. I'm a member of the Native Woodland Trust but never seem to make the gatherings. I'm wonderful at planning research trips which drag my family up hills, into forests and in search of prehistoric tombs and the like. We took a trip to England while I was editing The Treachery of Beautiful Things so I could trace the path of one character from Dragon Hill to the Uffington White Horse and on to Wayland's Smithy along the Ridgeway, mainly so I could find out if there was a gate across the path to Wayland's Smithy. (There was!)
18. Have you visited Libraries in any other country?
Oh yes, I've been very lucky with my current job in that there is an international association and we meet every 18 months. There is usually a visit to a few libraries involved. So far I've been lucky enough to see the Carmelite library at Krakow, the National Libraries in Malta and Madrid, El Escorial, the Vatican library and most recently the Theological and Philosophical Halls at the library in Strahov Monastery in Prague. Beautiful places.
19. Which one impressed you the most?
Probably the Theological hall in Strahov for looks alone. Malta and El Escorial were wonderful too.