Published on 18th July 2012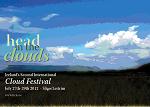 How often do you look up? The members of TICAS, The Irish Cloud Appreciation Society are very fond of doing so and at the end of this month (Fri-Sun 27th-29th July 2012)  are holding a festival in the north-west of Ireland.
Cloud watching, or cloud spotting is a relaxing and very enjoyable hobby. Enthusiasts will tell you there are ten basic categories of cloud, in a Latin 'Linnean' system devised by Luke Howard in 1802. Within these 'genea', or basic categories, however there are many different 'species' of cloud, and then within these there are further 'varieties'!
Cloud watchers will often capture particular formations, such as Clouds that look like things, or unusual cloud formations like the Asperatus cloud:
Above:Asperatus over Schiehallion, Perthshire, Scotland. © Ken Prior.
This kind of cloud formation is likely to be a new classification of cloud, the first since 1951. It was proposed to the UN's World Meteorological Organization in 2009 by Gavin Pretor-Pinney, founder of The Cloud Appreciation Society, to be added to the official list of classifications.
Article on the National Geographic website.
The Cloud Appreciation Society has produced several titles on the subject, and they are available in Dublin City Public Libraries for borrowing if you want to find out more about sky gazing:
The Cloudspotter's Guide by Gavin Pretor-Pinney
A comprehensive guide to all current classifications of cloud, how to spot them and how they form. Includes a series of photos entitled Name that cloud, to challenge your cloud spotting skills.
A Pig with Six Legs, and Other Clouds also edited by Gavin Pretor-Pinney, with Ian Loxley
This is a collection of cloud photographs from the Cloud Appreciation Society taken by society members all around the world.
Clouds that look like things edited by Gavin Pretor-Pinney, with Ian Loxley
A second collection of members photographs, a wide variety of cloud creatures with entertaining captions. This title also includes an overview of cloud formation and the different
Another book on the subject:
The Invention of Clouds, how an amateur meteorologist forged the language of the skies by Richard Hamblyn.
More than just a biography of Luke Howard, this is also an overview of the time that he lived with other information about the science of weather and clouds.