Irish Writers of the Fantastic celebrated in new poster
Published on 10th October 2017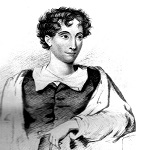 Dublin UNESCO City of Literature have produced a new poster in association with Swan River Press, to celebrate the work of twelve Irish writers of fantasy, from Charles Maturin to Mervyn Wall. Ask in your local Dublin City library branch for a free copy!
Check www.dublincityofliterature.ie for more suggested novels, collections and short stories by the featured writers.
These are the twelve writers, with links to the library catalogue:
Charles Maturin
Charles Robert Maturin, novelist and playwright, was born in Fitzwilliam Street on 25 September 1782. In his youth he had a fascination for the gothic novels of Walpole, Radcliffe, and "Monk" Lewis. His early novel, The Milesian Chief (1812), won the praise of Sir Walter Scott; while his play, Bertram (1816), though successful, drew harsh criticism from Coleridge. A lifelong member of the clergy, serving as curate of St. Peter's Church on Aungier Street, Maturin is now best remembered for his sprawling gothic novel Melmoth the Wanderer (1820). Maturin's great-nephew, Oscar Wilde, paid tribute to the gothic novelist by adopting the name "Sebastian Melmoth" during his final years of exile in France. Maturin died in his home on York Street on 30 October 1824.

Joseph Sheridan Le Fanu
Joseph Sheridan Le Fanu (1814-1873) was born in Dublin on Dominick Street Lower. He spent his youth in Chapelizod and the rural village of Abington, Co. Limerick. He entered Trinity College in 1833 and was called to the Irish Bar in 1839. Instead of pursuing a career in law, Le Fanu purchased and edited several newspapers including The Evening Mail and The Warder. In 1861 he bought the Dublin University Magazine, which he edited until 1869. He retreated from public life on the death of his wife in 1858, and from the seclusion of his Merrion Square home he turned his attention to writing novels. He is best known today for such pioneering weird stories as "An Account of Some Strange Disturbances in and Old House in Aungier Street", "Green Tea", and "Carmilla". His notable novels include The House by the Church-yard (1863), Wylder's Hand (1864), Uncle Silas (1864) and The Wyvern Mystery (1869). His seminal short story collection, In a Glass Darkly, was published in 1872, less than a year before his death.
Fitz-James O'Brien
Fitz James O'Brien was born in Cork on 25 October 1826. Little is known of his early life, though he attended Trinity College and, after a short period in London, emigrated to America around 1851. In New York he joined the artistic Bohemian set, and began writing for various magazines, including Harper's, Vanity Fair, and Atlantic Monthly. At the outset of the American Civil War in 1861, O'Brien joined the New York National Guard. He was wounded in February 1862, and later died of tetanus on 6 April. His most notable stories and poems were collected in 1881 by his friend and literary executor William Winter. O'Brien's proto-science fiction stories, such as "The Diamond Lens" and "What Was It?", are now considered landmarks of the genre. See, The Poems and Stories of Fitz-James O'Brien (1881) and The Wondersmith and Others (2008).
Charlotte Riddell
Charlotte Riddell (1832-1906)—who often published as "Mrs. J.H. Riddell"—was born in Carrickfergus, Co. Antrim. In 1855 she moved to London and began producing numerous popular novels, most of which are now out of print. However, it is for her Christmas ghost stories that she is still widely read. Many of her best ghostly fictions were collected in the landmark volume Weird Stories (1882), while her uncollected tales remain a staple of supernatural anthologies to this day. Though she experienced financial hardships later in life, Riddell was still well-regarded and received a pension from the Royal Literary Fund from 1900 until her passing six years later.
Bram Stoker
Bram Stoker (1847-1912) was born in Clontarf, Dublin, and educated at Trinity College. As a young man he worked as a civil servant at Dublin Castle, and as an unpaid theatre critic for local newspapers. He is best known today for his classic horror novel Dracula (1897), but during his lifetime he was known as the personal assistant of actor Henry Irving, and business manager of Irving's Lyceum Theatre in London. Other notable works include The Jewel of Seven Stars (1903), Personal Reminiscences of Henry Irving (1906), The Lair of the White Worm (1911), and the posthumously published collection Dracula's Guest and Other Weird Stories (1914).
Lafcadio Hearn
Born on the Greek island of Lefkada, Lafcadio Hearn (1850-1904) was brought up in both Ireland and England. At nineteen he emigrated to the United States where he became a journalist, first in Cincinnati and later New Orleans. After a sojourn in the French West Indies, he sailed for Japan in 1890. Hearn wrote extensively about his new homeland, its tales, customs, and religions, acting as a bridge between Japan and the Western world. He died in Tokyo where he is buried under his Japanese name, Koizumi Yakumo.
Lord Dunsany
Lord Dunsany (Edward John Moreton Drax Plunkett; 1878-1957) published his first collection, The Gods of Pegāna, in 1905. He followed this with more than sixty volumes of critically acclaimed stories, novels, plays, poems, and translations. A big-game hunter and a sportsman, Lord Dunsany was also a soldier and a highly ranked chess-player; and was the Byron Professor of English Literature in Athens in 1940-41. He was nominated for the Nobel Prize for Literature in 1950.
James Stephens
James Stephens was born in Dublin in 1880. Like many young Irish poets of the early twentieth century, Stephens started his career under the tutelage of A.E.; he dedicated his debut poetry collection, Insurrections (1909), to his mentor. In Irish Fairy Tales (1920) and Deirdre (1923), Stephens explored the myths and legends of Ireland. His best remembered books are his Dublin novel The Charwoman's Daughter (1912) and the philosophical fantasy The Crock of Gold (1912). He died in England in 1950.
Dorothy Macardle
Dorothy Macardle (1889-1958)—historian, playwright, journalist, and novelist—was born in Dundalk, Co. Louth. She was educated at Alexandra College in Dublin where she later lectured in English literature. She is best remembered for her seminal treatise on Ireland's struggle for independence, The Irish Republic (1937), but also wrote novels of the uncanny, including The Uninvited (1941), The Unforeseen (1946), and Dark Enchantment (1953). She died in Drogheda and is buried in St. Fintan's Cemetery, Sutton.
C.S. Lewis
C.S. Lewis (1898-1963) is widely considered a titan of twentieth-century fantasy, due largely to his "Chronicles of Narnia" novels (1950-56), which commenced with The Lion, the Witch and the Wardrobe. Though born in Belfast, Lewis is more often associated with Oxford, where he joined the Magdalen College English faculty, and associated with J.R.R. Tolkien and other members of the Inklings literary group. Lewis also explored science fiction in his "Space Trilogy" novels (1938-45), while Christian themes permeate works such as The Screwtape Letters (1942). Lewis is buried at Holy Trinity Church in Headington, Oxford.
Elizabeth Bowen
Elizabeth Bowen (1899-1973) was born in Dublin. In 1930 she inherited the family estate in Bowen Court, in Co. Cork, where she entertained the likes of Virginia Woolf and Eudora Welty. Her novels, non-fiction, and short stories—such as those in The Cat Jumps and Other Stories (1934) and The Demon Lover and Other Stories (1945)—continue to be read and appreciated today. Her ghostly fiction, which made regular appearances in the anthologies of Cynthia Asquith, is akin to that of Henry James in its psychological probity, but briefer, wittier, and more ironic, with a streak of feline cruelty. See, The Collected Stories of Elizabeth Bowen (1980)
Mervyn Wall
Mervyn Wall (1908-1997) was born in Rathmines, Dublin. He was educated in Belvedere College; Bonn, Germany; and the National University of Ireland where he obtained his B.A. in 1928. After fourteen years in the Civil Service, he joined Radio Éireann as Programme Officer. In 1957 he left Radio Éireann to become Secretary of the Arts Council of Ireland, a position he held until 1975. Widely known during his lifetime as a broadcaster and critic, he is best remembered now for his plays and novels, among them two satirical fantasies set in medieval Ireland, The Unfortunate Fursey (1946) and The Return of Fursey (1948). His book Leaves for the Burning won Denmark's Best European Novel award in 1952.
Information compiled by Brian Showers of Swan River Press.