Published on 11th June 2012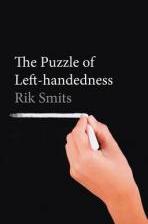 I grew up in a household where half of us were left-handed, one was ambidextrous (my dad) and the last two were right-handed, even given this my left-handed little brother came home from school frustrated and nearly in tears, he couldn't do his letters, it was so hard.  When my mum (left-handed) saw that his teacher hadn't considered getting him to use his left hand she saw red.  He was shown how to use his pencil in his left hand and everything went fine for him after that (there was a phone call to the teacher as well). This was in the 80s by the way.
Recently I read a book called The Puzzle of Left-handedness by Rik Smits which talks about the anomaly that is left-handedness, something that about 10% of the world's population is, something that has been (and is still in some cultures) suppressed and discouraged, in fact some countries deny the existence of left-handedness in their population, and social mores link left-handedness with uncleanliness.  Rik is left-handed himself and offers little solutions but he writes this noting the differences.  It's an interesting book with interesting insights into how this minor marker can set people apart.
I also recommend a Left-hand turn around the world and A Left-handed history of the world.
I'm mostly left-handed, I write left-handed, though I started doing calligraphy right-handed because I couldn't get the nibs, and my teacher never knew there was a book on left-handed calligraphy; she had told my class that left-handed people couldn't do calligraphy, I went on to do it for the Leaving Certificate, she strongly suggested it to me.
You develop coping skills for the right-handed world, but sometimes they aren't enough.  Some modern machinery are developed for the majority, with emergency buttons placed to the right, and are designed so left-handers will put themselves in harm's way trying to use the tool or machine in a way that works for them.
We bought a few books on crafting left-handed last year during the year of crafts, using the website Anything Left-Handed as a starting point.  I knit right-handed but I crochet left-handed.  Many books on crochet dismiss or disregard left-handed crochet, the clearest I've found is Crochet unravelled, which has some of the clearest diagrams I have ever seen on an instruction book.  We also got in the left-handed Embroiderers Companion.
It only takes a few adaptations to make life easier, ensuring that children have elbow room to their left is one of the minor ways their lives can be made easier, ensuring that the teacher does this without a fuss being made is crucial. We have a number of titles to help left-handed children and parents, such as Your Left-handed child and Left Hand Writing Skills which may help and may be worth trying out from the library to see if they're a good fit for your left-handed child.
Left-handedness isn't an awkwardness it's a variation.  Always remember that Barak Obama, George W Bush and Bill Clinton are all left-handed (among others), and many commentators say that it was because of an attempt to change George VI of The King's Speech fame, from left-handed may have contributed to his speech issues!