Let the Wild Rumpus Start!
Published on 9th May 2012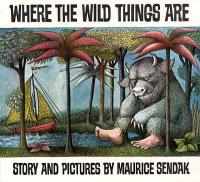 My daughter texted me yesterday...'Maurice Sendak died!'. If she had been at home we would probably have re-read Sendak's classic 'Where the Wild Things Are' and acted out a 'Wild Rumpus' for old times sake. She might even have donned a variation of a wolf suit (as a child she dressed for half a year as Robin Hood and another half a year as Batman, so she has form). Instead, we made do with watching YouTube clips and following #wildrumpus on Twitter.
People often talk about music being a soundtrack to their lives - and I can certainly identify with that - but my daughter and I also share an imagetrack to our lives, composed of images from the brilliant picturebooks of Janet and Allan Ahlberg, Pat Hutchins, Shirley Hughes, Quentin Blake, Jon Burningham, Helen Oxenbury, Eric Carle, Brian Wildsmith, P. J. Lynch, Marie-Louise Fitzpartick and, of course, Maurice Sendak. These images formed the backdrop to our shared moments and are still major reference points in our conversations now, though my daughter is well grown up. These authors and artists were part of our lives - still are part of our lives.
At the age when a child often demands a particular book to be read five, six or seven times in the one night, the wise parent (or at least the parent with a low tolerance level for badly written books) chooses the bedtime reading carefully. 'Where the Wild Things Are' never let either of us down. There are only 338 words in the entire book, but matched with Sendak's deceptively simple images and brilliant design, they tell an epic tale.
If you do one thing this week, visit your local library and borrow a copy of 'Where the Wild Things Are' by Maurice Sendak* and read it to someone - it doesn't even have to be a child - stand in front of a mirror and read it to yourself if you like - but make sure to put in all the actions and intonations - and have yourself a Wild Rumpus!
*Warning! Don't be sidetracked by 'novelisations' or 'retellings' based on the film - go for the real thing!