Literary Award Winner's Acceptance Speech
Published on 28th June 2016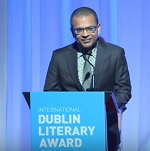 On Thursday, 9 June 2016, in the Mansion House in Dublin, Family Life by Akhil Sharma was announced as the winner of the 21st International DUBLIN Literary Award. Akhil Sharma was born in Delhi, India, and moved with his family to the United States when he was eight. He is also the author of An Obedient Father, winner of the PEN/Hemingway Award and a New York Times Notable Book of the Year. He lives in New York City and is an assistant professor of English at Rutgers University, Newark.
Commenting on his win, Akhil Sharma said: "To be acknowledged by people I respect is a strange thing. I can't say I fooled them. I feel abashed by this honor."  
The judges commented: "Suffering and the struggle to ameliorate suffering are not unknown in fiction but Family Life pulls off the extraordinary feat of showing them in their correct alignment. Closing the book, having known this mix of light and dark, you are left with the sense that while reading you were actually at the core of human experience and what it is to be alive. This is the highest form of achievement in literature. Few manage it. This novel does. Triumphantly. Luminously. Movingly. All hail Family Life by Akhil Sharma."
Family Life is available to borrow from Dublin City Public Libraries. The International Dublin Literary Award is sponsored by Dublin City Council and managed by Dublin City Public Libraries.
Watch Akhil deliver his acceptance speech:
To view this, you must update your