Local History Society Day at Dublin City Library and Archive
Published on 13th January 2020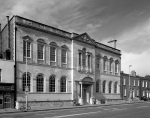 The Dublin and Irish Local Studies Collection is holding its 16th Local History Society Day on Saturday 21st March 2020. The event is being held in the Dublin City Library and Archive, Pearse Street. This year's the event will run from 10.00am to 1.30pm. Four to five presentations will be hosted on the day. Any speakers who cannot be facilitated on the day will be invited to speak at the next Local History Society Day.
The members of your group are invited to participate in Local History Society Day in the following ways:
   By sending members to attend the event as delegates. Download forms here and email

[email protected]

or Tel: (01) 6744999
   By putting forward a speaker from the group to present a paper on the day. Three to four speakers will talk on the day, each one presenting a short paper no longer than 35 minutes.
   Proposals for a speaker and subject can be submitted on the forms above. Topics may include studies of local individuals, events or places, or any topic with a local history/heritage aspect. Proposals must be submitted by the 25th February 2020.
If your group participated in Local History Society Day last year, we look forward to seeing you again, and if not, we hope you will take this opportunity to become involved. If you have any questions, please contact me at [email protected] or Tel: (01) 6744999.
As Secretaries and Chairpersons can change over time we would be very grateful if you could confirm that the details we have for your society are correct and up to date and would amend any details as required.
Please follow the link to find details of the upcoming schedule for March 2020.