Lord Mayor's Certificates, Conferring Ceremony
Published on 15th December 2014
The conferring ceremony for graduates of the Lord Mayor's Certificate in Oral History, and the Lord Mayor's Certificate in Local Studies, 2013-2014, took place in the Dublin City Library & Archive on Wednesday, 10th December, 2014.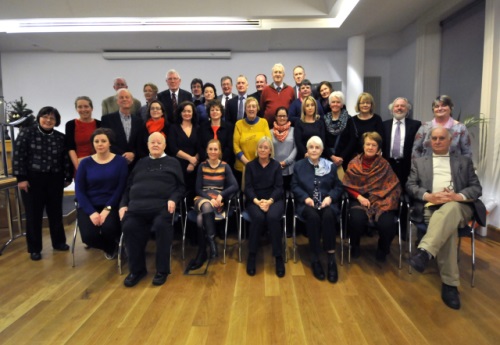 Above: Photo from the conferring ceremony. Click to view larger version.
The Lord Mayor's Certificate in Oral History, and the Lord Mayor's Certificate in Local Studies, are two courses run by Dublin City Archives and offered to the public as part of Dublin City Council's commitment to life long learning.
The courses are designed to appeal to anyone with an active interest in history and who wants to learn how to engage with a variety of different research methods and sources.
The 2014-15 courses commenced in the Dublin City Library & Archive in September 2014 and continues until April 2015..
Ann- Louise Mullhall, one of the participants on the Lord Mayor's Certificate in Oral History in 2013-2014 has kindly provided us with a review of the course:
"I attended this programme because I heard Ellen Murphy, Senior Archivist, Dublin City Library & Archive talk about an oral history project she had been involved with on the North Strand Bombings. I am presently researching a book on the history of the Coombe Hospital and thought oral history could be a useful research method in my search for evidence.
The 28 week course was divided up into 4 sections: In the first section An Introduction to Oral History, we learnt that oral history was not a new branch of history but a new technique a means of bringing into play new sources of evidence to be evaluated alongside written sources and materials. We were introduced to the key concepts, theories and methodologies in oral history. One of the objectives of the course was to equip us students with the essential skills in interviewing techniques and encouraging engagement with ethical research issues. We had some interesting discussions in the class around the ethical issues. Each class was illustrated with references to core texts, helpful Irish and International websites of interest and suggested readings. We were sent copies of the PowerPoint presentations from each class which was useful. We had presentations from researchers who were involved in the oral history projects done in East Wall, Dublin and of family memories of the 1913 Dublin Lock Out. They gave us tips on avoiding pitfalls and great encouragement with their enthusiasm for this method.
The second section Irish History Sources and Methods, introduced us to documentary and other sources for the study of Irish History. We also looked at developing our oral history research proposal and putting our learning into action by preparing to do our own oral history piece. One of the strengths of this course is the assistance and encouragement you get from the course tutors Dr. Catherine O'Connor and Dr. Mary McCarthy, as well as from fellow course participants. We got the necessary guidance in academic writing.
The third section was Oral Heritage and Memory: Private and Public. It was very interesting to learn about the Irish Folklore project. We were given samples of the evidence that had been collected about life in Ireland in the 1930's. When we were exploring issues relating to public history and commemoration course, participants gave presentations on commemorations they were involved with. We also learnt about the ' Decade of commemorations' and looked at websites that illustrate each historical event. We went on a most interesting and informative field trip to Glasnevin Cemetery and Museum where we did the Military history tour with Conor our guide. It was fascinating to visit the graves of soldiers who fought in wars and risings, of chaplains who ministered to them, of women who fought alongside their men, of politicians who tried to negotiate the peace. We then visited the Museum to view the Irish Volunteers exhibition and finished off the visit with a meal and discussion on what we had seen and learnt.
The final section was the Seminar Module which provided assistance in the design and development of our own oral history research project. Both tutors gave us plenty of guidance with our projects. This also provided us with opportunity to learn from our fellow students. We all got assistance from the staff in Dublin City Library and Archive Reading Room with information retrieval for background information for our projects.
A most interesting programme!"
Further information available from [email protected].