Lost in the Stacks: New Comics
Published on 11th September 2019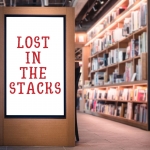 Welcome to the second edition of our new blog series 'Lost in the Stacks' - recommendations by Dublin City Libraries staff exploring overlooked gems and helping you find your next read!
This entry comes from one of our most prodigious blog contributors, library assistant Marc and focuses on some of the new comics available to borrow at Dublin City Libraries.
New books! New books! Batten down the hatches! Here's what's new in Dublin City Libraries ever-expanding catalogue of comics. If you'd like to borrow any of the comics discussed below, simply click on the book cover or title to be taken to the reserves page, where you'll need your library card and PIN to request the book.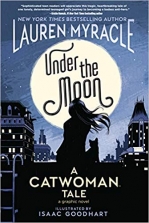 Lauren Myracle's Under the Moon: A Catwoman Tale is a 200 page graphic novel based on Gotham's favourite teenage catburglar. Artist Isaac Goodhart uses a single colour of ink, mostly blue with shades of purple for flashbacks and fantasies, to stunning effect. I don't read Catwoman regularly; even Ed Brubaker's take on Batman's frenemy left me cold but Myracle's background in young adult melodrama makes all the difference in this iteration. It's unclear right now if Myracle is going to continue with her interpretation of Selina Kyle but I hope she does.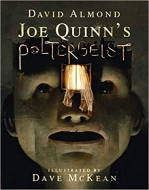 Joe Quinn's Poltergeist is the new graphic novel from acclaimed children's author, David Almond. No one believes Joe Quinn has a poltergeist in his house, even kids who have seen the flying crockery with their own eyes. Our protagonist, Davie, is the only one who can see what the Quinn's see. The new priest in town, who is fond of a drink, sympathises too.  Almond's writing is unsurprisingly moving and realistic.  Combined with Dave Mc Kean's artwork, the story is gripping and effecting. Like their previous collaborative work, The Savage, it says more about death, and our relationship with it, than is ever stated in the text. Mc Kean's merging of traditional and digital art forms is the perfect foil for Almond's efficient storytelling. Joe Quinn's Poltergeist is as beautiful as it is unsettling.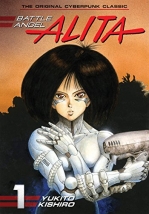 In the wake of Robert Rodriguez' film adaptation earlier this year, a deluxe edition of the classic manga, Battle Angel Alita has arrived. What's that, you say? A cyborg bounty hunter in a post-apocalyptic future? Could this BE any more '90s? BAA originally ran from 1990 to '95 and is known in Japan as Gunnm or Ganmu. I get the feeling that something is lost in translation. There are many visual non-sequiturs. Perhaps it reads better in the original Japanese. Nonetheless, despite the fact that it is a quarter of a century old, the characterisation and twisting plot lines have aged well. Battle Angel Alita reads like a classic '80s 2000AD tale, worthy of Alan Moore or Grant Morrison at their most creative, daring, and exciting.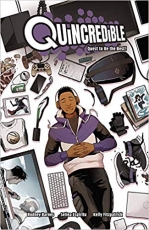 If we know one thing about Rodney Barnes, it's that he loves portmanteau titles for his comics. Not satisfied with Killogy and Killadelphia, his latest offering is Quincredible. Quinton West is a reluctant superhero. He became invulnerable in the aftermath of a natural disaster in New Orleans, and now he must deal with neighbourhood bullies, police brutality, and controlling parents. Many modern comics try to inject a dose of realism into their superhero origin stories and Barnes does a good job of it here. A pair of glasses were all Clark Kent needed to preserve his secret identity but Quincredible is rumbled when a local hood recognises his running gait. Can Quin rescue his family, pass his exams, get the girl, and become a legitimate crime-fighter?  You'll have to read it yourself to find out.