The Luminaries wins the Man Booker Prize
Published on 16th October 2013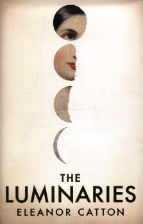 Eleanor Catton, a 28-year old New Zealander born in Canada, has become the youngest ever winner of the £50,000 Man Booker Prize with her novel 'The Luminaries'. And The Luminaries, at some 832 pages, has become the longest ever novel to win the Award. Catton becomes only the second ever New Zealander to win the prize (following Keri Hulme with 'The Bone People' in 1985).
The Luminaries is a murder mystery set in a New Zealand gold mining town in 1866. Walter Moody has come to make his fortune upon the New Zealand goldfields. On arrival, he stumbles across a tense gathering of twelve local men, who have met in secret to discuss a series of unsolved crimes. A wealthy man has vanished, a prostitute has tried to end her life, and an enormous fortune has been discovered in the home of a luckless drunk. Moody is soon drawn into the mystery: a network of fates and fortunes that is as complex and exquisitely patterned as the night sky. 
The chair of judges Robert Macfarlane described the book as a "dazzling work, luminous, vast".
The Luminaries is Catton's second only novel, her first being the much shorter novel 'The Rehearsal' (317p.) published in 2008 and longlisted for the Orange Prize. 
Books by three Irish authors were among the thirteen on the longlist announced last July. They were: 'Transatlantic' by Colum McCann, 'The Spinning Heart' by Donal Ryan and 'The Testament of Mary' by Colm Tóibín. Tóibín's book was the only one of the three to make the shortlist.
Last year's winner was 'Bring Up the Bodies' by Hilary Mantel.
Did You Know? Eleanor Catton appeared at the Mountains to Sea DLR Book Festival, in the Pavilion Theatre, Dun Laoghaire, on Wednesday September 4th, 2013! Photos on Facebook.
Reviews
The Luminaries, by Eleanor Catton (Irish Times)
The Luminaries by Eleanor Catton, review (The Telegraph)
The Luminaries by Eleanor Catton – review (The Guardian)
Book Review: The Luminaries, By Eleanor Catton (UK Independent)