Meet the Historians in Residence
Published on 13th February 2018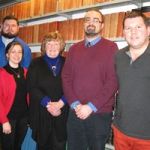 Dublin City Council has a team of part-time Historians in Residence working with communities across the city. This public history project began in Spring 2017 under the auspices of the Decade of Commemorations designation within the Council, and the historians work in the five administrative areas of Dublin City  to make history and historical sources accessible and enjoyable for all.
Pictured l-r: Donal Fallon, Maeve Casserly, Cathy Scuffil, Bernard Kelly, Cormac Mooore
Dublin City Council Historians in Residence are working on all sorts of history events throughout the city including talks, walks, tours, discussions, history book clubs,  blogs, exhibitions and more. They are:
Donal Fallon -  North West Area
Cormac Moore  -  North Central Area
Maeve Casserly  -  South East Area
Cathy Scuffil  -  South Central Area
Bernard Kelly  -  Dublin City Library and Archive
They can talk to groups and students about history, organise walking tours and can come to your area to meet you. Get in touch on Facebook or Twitter (@DubHistorians) or email [email protected]. And it's all FREE!
Part of Dublin City Council's Decade of Commemorations programme.
Video: www.paddycahill.com
To view this, you must update your