In memory of Anne McCaffrey
Published on 23rd November 2011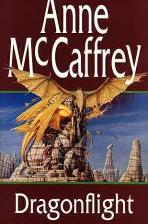 Last night I read that Anne McCaffrey died.  It has been confirmed by several sources, including the Guardian so I can't stay in denial any more.  She was getting older, 85 at her last birthday, so I knew it was going to happen, I just didn't want it to happen now, or ever.
As I've related before, she was one of the first real SF authors I read.  Her books stayed with me throughout my teenage years and into my 20s (and I really need to dust them off and give them a re-read).  They were groundbreaking at the time, female heroes who did things rather than waiting for things to happen.  Menoly from Dragonsong, played music, like me, and kept me sane through the experience of being bullied in school, my own copy is in bits.
Her own favourite was The Ship Who Sang, while she's well known for the Pern series, she also had other series (publishing about 100 books in all over her lifetime!)
She came to Ireland because of the tax breaks, built a house here, still can be found in the phonebook (she lived in Wicklow), but has never really been celebrated as an Irish Author, although she was a loud voice encouraging people to write, people to come to Ireland and about her love of living here.  She named one of her characters Killishandra because, she was quoted as saying, it was a name wasted on a creamery.
She was working up to the last, answering questions on her site, she was always willing to talk to fans. She was the first woman to win a Hugo Award, the first to win a Nebula Award (her list of awards is amazing and on her site)
"Lessa woke, cold." is the first sentence of Dragonflight, fans know it and there have been occasions when she has appeared as a character in books, usually as a storyteller, and this is the evocative sentence that says, this is her.  There are plans to film the Pern series, may it stay true to her vision.
She was guest of honour at Octocon one year, and I was there, she also occasionally came as guest.  I remember one day, shyly introducing myself and getting caught up in conversation with her in the Convention bar in the Royal Marine Hotel, and figuring that I had enough signatures of hers, and that it would be cruel to ask a woman who was apparently suffering badly with arthritis at the time to sign more.  She still was vastly entertaining and understanding about a fan who was a bit overwhelmed at meeting and talking to an idol.  She's the reason I have a lot of Dragons in my house and started my fascination with the creatures.
While Dragons may be a fantasy concept, hers were Science Fiction Dragons and you could start a row with her by claiming the opposite.
There's a scene in one of her books when one of her longstanding characters dies and all the dragons in the world keen.  Last night and today have been days when you can see the SF community around the world keening for the loss of one of the giants in the field, one of the ones that touched me most came from C E Murphy, a fellow American writer resident in Ireland.
She had "green eyes, grey hair freckles and the rest was subject to change without notice" according to a lot of her newer biographies.  I was a fan and I hope that I enjoy her books as much again as I did before.  Many of her worlds have been passed on to other writers, including her son Todd McCaffrey, but no-one will be Anne McCaffrey.