Michael Carroll Interviewed
Published on 19th December 2012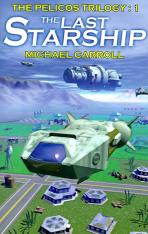 For my "interview a genre author in Ireland" series I got Michael Carroll to answer my questions.
I've read a fair few of Michael's books over the years, most recently the Pelicos Trilogy, starting with the Last Starship and I've been enjoying it, however my husband has been loving it.  Michael has two websites, one concentrating on his Quantum Prophecy series and the other a more general website.  He's also written some Adult fiction as Jaye Carroll (I've read at least one, The Sweetest Feeling).
If possible I've linked to the authors or books mentioned on our catalogue, if not possible I've linked to relevant websites.
On with the questions:
1. So what kind of fiction do you write?
 These days I mostly write Young Adult novels (and some comic books!)
2. Why?
I love good, strong adventure stories and I find that YA is the perfect medium for that. With YA, the readers tend to be less cynical - and less forgiving!
It's hard to write YA (some people think that because the books are generally shorter than adult novels, that makes them easier - the reality is quite the opposite) and I like that because each new book stretches my meagre talents beyond their limits. You never learn anything by taking the easy path!
3. How long have you been writing for?
Let's see... First short story was published in the late 80s, first novel in 1993, and I've been a full-time writer since 1999. But I've *always* been writing. I remember trying to write a novel on my mother's old portable mechanical typewriter back in 1979, and even before that I used to write and draw my own comics. (They were rubbish, but I didn't know that then!)
4. What is your library history like?
Not as good as it should be... Everyone in the family is a voracious reader, and Dad took us to the library every couple of weeks when we were kids, though mostly I suspect that was because in those days one could only borrow three books at a time, and he'd use our spare cards to get more books for himself. After I left home I didn't regularly visit a library for years, to my shame. But there's a great library here in Clondalkin and my wife and I drop in every couple of weeks (with rather long absences after Christmas and birthdays because most of our presents to each other are books!).
These days, I don't borrow as many novels as I probably should - I mostly borrow CDs, audiobooks, DVDs and graphic novels - but that's because my pile of "to be read" books is in danger of toppling over and killing someone.
5. Does it give you a special thrill to see your books in your local library?
It does! Though I do tend to feel slightly awkward to see my books on the shelves alongside real books by proper authors! :)
6. Have you ever lurked near your books in a library or bookshop if someone seems to be interested?
No, I've never done that... But I will now that you've given me the idea!
7. Do you do readings in libraries, how do you find them?
I do maybe half a dozen readings a year, most of them as part of the Children's Book Festival, but I'd love to do more. To be honest, it's my favourite part of being a writer! Not the readings themselves so much as the Q&A sessions with the audience. Writing is quite a solitary occupation so it's always nice to get out into the real world and interact with actual people instead of imaginary ones...
8. Do you use the interlibrary loan system in your library service? (well I might as well get a minor plug in!)
Um, sorry, I don't think I've ever used it, but I know my wife has. It's a pretty useful system!
9. Have you ever reserved your own book just to prove it's in stock?
No, that would be too sad, even for me!
10. Did you have a favourite author as a kid?
Up until I was about ten, my favourite books were the Three Investigators novels (alas we have no copies of them any more - Deigh), written by a variety of authors, but I also read every science fiction book I could get my hands on. Ray Bradbury, Robert A. Heinlein and Arthur C. Clarke were particular early favourites, but then I discovered the books of Harry Harrison, and everything changed. Harry's books were - and still are - my greatest influence! (and actually Michael was the webmaster for Harry Harrison's Website! - Deigh)
11. Have you read those books again as an adult? What was it like? Did it stand up to adult reading?
I re-read all of Harry's books every couple of years, and they're just as good now as they were the first time. Likewise, Bradbury's books haven't aged. But I can't say the same for Clarke or Heinlein... I would no longer count those two among my favourites. Heinlein and Clarke had great imaginations, but their characters tend to be rather samey, especially their female characters whose characterisation rarely goes beyond "she had blue eyes and a pretty dress." These days, for me a good story is more about character than plot or background.
If I don't care about the characters, I don't care what happens to them or where they come from.
12. List five favourite authors (who aren't you!)
Only five!? That's not going to be easy... OK. Not counting anyone already mentioned above:
Carl Hiaasen, Christopher Fowler, James Morrow, John Sladek, Terry Pratchett
13. Are there any Irish authors you recommend looking for?
Michael Scott, James White (there are a number of James Whites in the catalogue, Final Diagnosis is a book by the one he means), J.H. Brennan, Bob Shaw, Maura McHugh (who is one of the authors in Womanthology), Ruth Long (we're working on sourcing her books), Derek Gunn, Oisin McGann, Darren Shan, Peadar Ó Guilín, Eoin Colfer... I can name dozens of 'em!
14. Have you read any books about Ireland that made you laugh/cry/breathe smoke?
The White Plague by Frank Herbert comes immediately to mind. It's about an American scientist who, after his wife and child are killed in Dublin by an IRA-made bomb, creates a plague designed to kill all women (the leap of logic there escaped me when I was reading the book and still eludes me). The scenes set in Ireland are peppered with "begorrah" and "to be sure" and the whole thing might well have sprung directly from the cod-Irish loins of The Quiet Man (one of my top-ten most despised movies). It's been a long time since I read The White Plague but one scene that, sadly, will stay with me forever is the scientist returning to Ireland and meeting up with the Guinness-drinking, flat-cap-wearing IRA member who constructed the bomb. Said IRA man is walking along a lonely road towing a donkey on a length of string. You know. The way all Irish people do when the mood takes us. At all, at all.
15. Do you have an alias? Why?
For a number of years I wrote "chick-lit" (hate that term!) novels under the pseudonym Jaye Carroll. The reason we chose not to publish them under my own name was simply that the targeted readers tend not to pick up - or even notice - romance novels written by men. Using a female pseudonym (even though the name "Jaye" is fairly androgynous) meant that the readers would be more likely to judge each book on its own merits rather than always think of it as "that woman's book written by a man." The books were pretty successful so I guess it worked!
I've used other pseudonyms for other reasons, but I won't go into any more detail than that because I'm still using some of them!
16. Do you read any genres outside what you write? Deliberately?
 I make a point of not sticking to any one genre because I feel that's too limiting. There are great books to be found in *every* genre! Any writer who only reads the genre in which he or she is writing is on a one-way trip down the cul-de-sac of staleness and mediocrity. To grow, we must explore! I have a habit of picking books at random, without knowing anything about the writer or the book itself. It's a great way to find new authors and new sub-genres! I'd recommend any writer to do the same: go into the library or bookstore, pick five or six books totally at random, and read them. You'll learn a lot more from that than from reading the same author and the same genres over and over.
17. Do you go to any Irish Conventions?
Absolutely! Every year I go to Octocon and P-Con (or Phoenix Convention, to give it its full name) (which is sadly not running in 2013), plus an assortment of other conventions, depending on where they are, what they clash with, and who else is going to be there. Conventions are a great way to unwind, meet new readers and writers, and buy lots of books!
18. Do you go to any non-Irish Conventions? Any favourites or recommendations?
My non-Irish convention-going experience has mostly been comic-book related: Hi-Ex (the Highlands International Comic Expo) in Inverness is a particular favourite, plus there's the New York Comic-Con and San Diego Comic-Con, both of which are great fun but way, way too big. San Diego in particular suffers from "media expansion": you could have the biggest names in the comic book industry talking to a mostly empty room because next door there's the thrill of seeing the second-assistant-coffee-fetcher from a movie franchise like Twilight or Harry Potter.
19. Do you have any hobbies outside of writing?
I dabble a lot with computer graphics and website design, but I don't  have enough spare time to do much else. I also like to cook and I'd  love to have the time to learn how to do it properly... Perhaps I'll be able to do that when i retire! (That said, whenever I think about  retiring, and all the free time I'll have, I can't help thinking about all the writing I'd be able to get done...)
20. Have you visited Libraries in any other country? Which one impressed you the most?
I've only visited a few as a writer, but as an ordinary punter if I'm in a new city I try to make time to drop into the oldest library I can find. There's something intoxicating about really old books! The main branch of the New York Public Library (on Fifth Avenue in Manhattan) is a favourite because it has a Gutenberg Bible... I go and visit it every time we're in Manhattan. I must have spend *hours* staring at that book over the years! I want one, if anyone's buying.
21. Is there anything that you would like to see Irish Libraries do? or Dublin City Public Libraries in particular?
Run more events featuring Irish writers, especially me! I was invited to an event recently in Ballymun and by chance there was a local writers' group meeting at the same time, so they dropped in to have a listen and ask a few questions... It turned out to be one of the most enjoyable and informative library-based events I've ever done!
Also: more events for kids, get them to understand how important libraries are! I've lost count of the number of times I've been talking to a classroom's worth of kids about my books when one of them asks, "Where can we get your books?"
I'll reply, "Right here, in this library."
"Well, how much are they?"
"You don't pay for books in the library. You just join the library - for free - then you borrow the books you want and bring them back when you've read them."
The kids always seem to be astonished at this! They grin to each other like they've stumbled upon a forgotten cache of hidden treasure.
Which, in a way, is exactly what's just happened...