'A Monster Calls' - double award winning book that everyone should read.
Published on 14th June 2012
It's being billed as 'an historic moment in children's literature', as Patrick Ness wins the CILIP Carnegie Medal for his novel 'A Monster Calls' (Walker Books). Patrick also won last year for 'Monsters of Men' the third book in his 'Chaos Walking' trilogy (a feat only achieved once before by Peter Dickinson in 1979/80). Uniquely, 'A Monster Calls' has also been awarded the CILIP Kate Greenaway Medal for illustration - the prize going to Jim Kay for his haunting illustrations that perfectly match the mood and subject of the novel.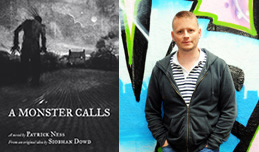 L.- R. Patrick Ness & Jim Kay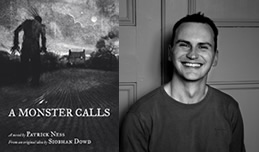 As a huge fan of this book myself, I set my Book Club to reading it some months ago. They are an open-minded group and accepted my recommendation of this 'children's book' with good grace. Any expectations they had harboured of an 'easy read' were soon abandoned as they became engrossed in this challenging and emotionally mature exploration of grief, bereavement, fear and the consolations of family relationships that are 'good enough'. The overall verdict from our Book Club? - 'Everyone should read this book.' Seems like the CILIP judging panel agreed.
Describing 'A Monster Calls' as 'one of the defining books of its generation', Rachel Levy, chair of the 2012 CILIP Carnegie judging panel went on to say, 'It is a beautifully economical, structurally brilliant and lyrically descriptive account of a challenging episode in one child's life. One of our judges - bereaved at a young age - said she wished that she'd had 'A Monster Calls' to read then, because while it describes the nature of grief with an extraordinary clarity it also fills the reader with a spirit of hopefulness and a love for life that is profound and lasting.' Rachel went on to describe Jim Kay's award winning illustrations as 'absolutely stunning and so much part of the experience of reading this extraordinary book.'
You can find out more about 'A Monster Calls' and about the CILIP Carnegie & Kate Greenaway Awards at www.carnegiegreenaway.org.uk