Moone Boy Thrills Hundreds!
Published on 15th October 2015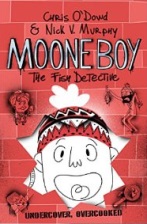 There were some 400 children in the audience at a special 'Moone Boy' event in Dublin's Liberty Hall yesterday (14th October). Chris O'Dowd and Nick V. Murphy, co-authors of 'Moone Boy: The Fish Detective' were there entertaining the children and reading from the second in the hilarious illustrated series inspired by the Sky TV series they co-wrote.
The event was organised by the Dublin UNESCO City of Literature Office in conjunction with Dublin City Public Libraries.
'Moone Boy: The Fish Detective' is just about to be published and will soon hit the shelves in our branch libraries across the city. The first in the series, 'Moone Boy: The Blunder Years' is available now!
View photos from the Liberty Hall event, featuring Nick V. Murphy, Chris O'Dowd and Cormac Kinsella (Repforce), in the slideshow below:
Story Synopsis:
Martin's parents are strapped for cash: it's going to be a budget Christmas this year. So Martin plans to buy his own presents - and attempts, unsuccessfully, to get a job. Padraic puts in a word for him with his Auntie Bridget, who runs the local butcher's shop. But her shop is struggling as the fish shop across the road undercuts her and Bridget just can't compete. No one knows how the owner, Francie Feeley, does it - especially since he doesn't seem to employ anyone at his fish factory. No one goes in; no one goes out - it's a mystery.
Intrigued, Martin decides to go undercover and find out the truth, like a fish-mole - or fish detective. Martin infiltrates the factory and discovers that Francie is illegally employing a gang of Brazilian fish-gutters. They're a lot of fun and one of them, Fabio, becomes Martin's good friend. But when Martin is exposed as a spy, he has to choose which side he's on. Will Christmas be ruined for the whole of Boyle?