More Crime Reads to Savour
Published on 16th January 2015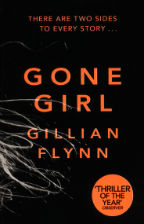 In recent months I have continued apace with my crime fiction reading, and here I share with you just some of those reads, they being books by Gillian Flynn, Donna Leon, Thomas Enger and Fred Vargas. So read on!
Who at this stage is not familiar to some degree with the story that is 'Gone Girl'

 seeing how the film version was such a hit? Gillian Flynn's book, upon which the film is based, has proved a huge success, being the 25th bestselling adult fiction title of all time and spending 8 weeks at the top of the New York Times hardcover fiction bestseller list. 'Gone Girl' is the classic tale of a wife going missing and the finger of suspicion regarding her disappearance pointing at her husband. Where is Amy Dunne, and has loving husband Nick got something to do with her disappearance?
This is a well crafted thriller with twists and surprises that will keep you guessing and likely ensure you are always one step at least behind the storyteller. Amy's diary and the gradual release of its contents adds to the mix and has you second guessing at the turn of every page. Nick's actions and thoughts don't help matters. As you delve further into the story things get even darker and the truth behind the seemingly happy marriage begins to unfold. The switching back and forth between the two narrators (Amy & Nick) is done intelligently and in a way that ensures your interest will not wane. This book begs the question - how well can you really know someone?
I can well recommend 'Gone Girl', so get reading!.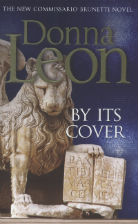 By Its Cover

is the twenty-third title in Donna Leon's Venice-based crime series featuring Commissario Brunetti. The theft and vandalism of antiquarian books from a prestigious Venetian library form the basis of this story, and while the staff suspect that an American researcher has stolen them, Brunetti doesn't quite buy in to this theory.
As the investigation proceeds, Brunetti seeks to enlighten himself about the stolen books, it being the subject matter rather than the physical beauty of such rare texts that is the appeal. Events take a sinister turn however (albeit half way into the story before so doing) when one of the library's regular readers, an ex-priest, turns up dead, murdered in brutal fashion. As the story progresses, developments point towards the black market in antiquarian books and the involvement of more than one person in the thefts from the library.
To my mind, the focus on antiquarian books, in particular the subject matter of the stolen books is likely to be the strongest draw of this story, but if only for bibliophiles. Missing for me was the usual mix of interesting characters and the interactions between them and Brunetti, also the near absence of Brunetti's family and the Venetian cuisine we have become so accustomed to. Add to this the sudden, and for that reason, unsatisfying ending and this all adds up to, for me, one of Leon's least enjoyable works.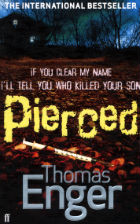 Pierced

 by Norway's Thomas Enger is the follow up to 'Burned' and the second in the series featuring Oslo-based journalist Henning Juul. The series is centred around Juul's struggle to deal with the death of his son, which he largely feels responsible for, and his efforts to get to the bottom of the fire that resulted in his son's death and he receiving extensive injuries.
In Pierced, Tore Pulli, a prisoner with an upcoming appeal into his conviction for a murder, challenges Juul to find evidence of his innocence, Juul's incentive being that Pulli knows something about the fire that resulted in his son's death and will share it with him in due course. Convinced that something untoward resulted in the fire, Juul has no choice but to investigate despite the weight of evidence against Pulli and the type of character he is. With assistance from fellow journalist, Iver Gundersen, who also happens to be his ex-wife's partner, Juul sets about delving into the seedy and dangerous world of underground gyms and clubs in Oslo.
A parallel story involving a news cameraman has you wondering for some time what relevance that story line plays but all eventually become clear. Its inclusion and outcome lends to a complicated and involving plot which, for me, was largely satisfying and deemed the book a worthy read despite the book maybe being unnecessarily long at over 500 pages.
Juul's struggle to deal with his son's death, plus his relationship with his ex-wife and her current partner, add nicely to the story and indeed serve to enhance the book's overall appeal.
Given that the series continues with 'Scarred', which I now look forward to reading, it might be safe to assume that Juul's struggle will continue a bit longer despite what this story might reveal. Enjoy, I did!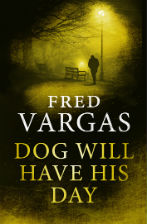 It's always a joy to read a book by France's Fred Vargas, the creator of the fabulous Commissaire Adamsberg series. Dog Will Have His Day 

, though not from the Adamsberg series, predates all but one in fact of the Adamsberg titles. Originally published back in 1996, it is the second of three in The Three Evangelists series, the first being The Three Evangelists; we await the third in translation.
This book features Parisian Louis, or Ludwig, Kehlweiler, who, having discovered a human toe bone that was deposited by a dog (!) near his regular park bench, sets about investigating its source and, as he suspects, a possible murder. This investigation takes Louis and his pet toad (!) ,which he keeps in his pocket, to a town in Brittany as he follows the trail of the offending dog and his walker. Here an old woman has been found dead on a beach, minus of course a toe!
The book is full of interesting and colourful characters, some you might even think eccentric, which is what you come to expect from Vargas, character development though being only one of her many attributes as a writer. There is Louis of course, a former investigator with the Ministry of Justice; old Marthé, a former prostitute; Marc, a medievalist and one of the evangelists; and others. Vargas also here paints a vivid and interesting picture of a provincial town and Breton life.
This book is a wonderful crime mystery and was my delight to read, you will certainly want to seek out other titles by Vargas having read it. And I would highly recommend you to!
Happy reading!