The most borrowed digital library books in 2021
Published on 20th January 2022
Last week we shared the top ten lists of books borrowed in 2021 from our citywide network of branch libraries.
Today we're going to take a look at the most popular digital picks on BorrowBox by you, our fantastic Dublin City library members.
It's lovely to see so many Irish writers featuring in the top ten lists, and it's great to see that you enjoyed so many wonderful books including 'Leonard and Hungry Paul', last year's One Dublin One Book choice, and the Dublin Literary Award winner, 'Lost Children Archive', as well as some of the short-listed titles. 
Access eBooks/eAudiobooks on your phone, tablet or reader. Once you have installed the app, search for Dublin in the 'Library' field provided and then sign in using your library membership card number and PIN. Watch our how to video on Borrowbox. Members of other library authorities will need to log in using a different link.
If you don't have a library card at the moment, if you need to renew your library membership, or if you're not sure of your PIN, don't hesitate to contact your local library and they will help you; please see here for more information on library membership. Or contact us at [email protected]. We're always happy to help.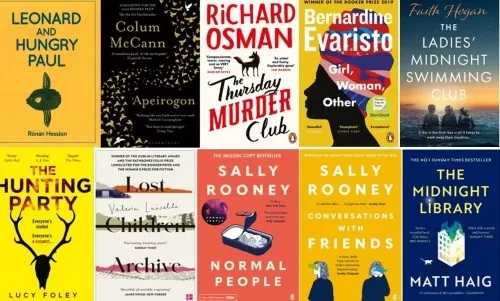 Adult fiction eBooks
1.    Leonard and Hungry Paul by Rónán Hession
2.    Apeirogon by Colum McCann
3.    The Thursday Murder Club by Richard Osman
4.    Girl, Woman, Other by Bernadine Evaristo
5.    The Ladies' Midnight Swimming Club by Faith Hogan
6.    The Hunting Party by Lucy Foley
7.    Lost Children Archive by Valeria Luiselli
8.    Normal People by Sally Rooney
9.    Conversations with Friends by Sally Rooney
10.  The Midnight Library by Matt Haig

 Adult fiction eAudio
1.    The Thursday Murder Club by Richard Osman
2.    The Midnight Library by Matt Haif
3.    Where the Crawdads Sing by Delia Owens
4.    The Man who Died Twice by Richard Osman
5.    Leonard and Hungry Paul by Rónán Hession
6.    Girl, Woman, Other by Bernadine Evaristo
7.    Snowflake by Louise Nealon
8.    56 Days by Catherine Ryan Howard
9.    Apples Never Fall – Liane Moriarty
10.  Lost Children Archive by Valeria Luiselli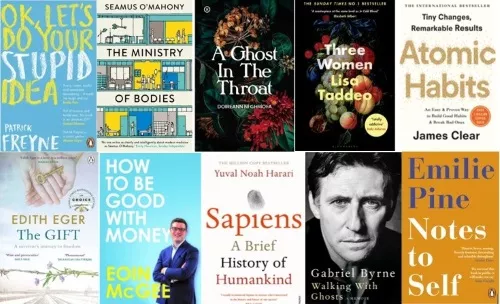 Adult non-fiction eBooks
1.    Ok, Let's Do Your Stupid Idea by Patrick Freyne
2.    The Ministry of Bodies: Life and Death in a Modern Hospital by Seamus O'Mahony
3.    A Ghost in the Throat by Doireann Ní Ghríofa
4.    Three Women by Lisa Taddeo
5.    Atomic Habits: An Easy and Proven Way to Build Good Habits and Break Bad Ones by James Clear
6.    The Gift: 12 Lessons to Save Your Life by Dr. Edith Eger
7.    How to be Good with Money by Eoin McGee
8.    Sapiens: A Brief History of Humankind by Yuval Noah Harari
9.    Walking with Ghosts: A Memoir by Gabriel Byrne
10.  Notes to Self: Essays by Emilie Pine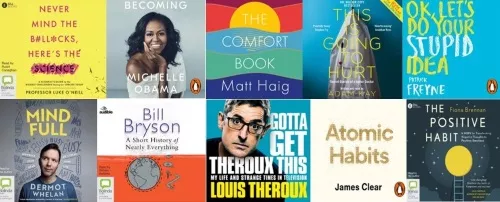 Adult non-fiction eAudio
1.    Never Mind The B#ll*cks, Here's the Science by Luke O'Neill
2.    Becoming by Michelle Obama
3.    The Comfort Book by Matt Haig
4.    This is Going to Hurt by Adam Kay
5.    OK, Let's Do Your Stupid Idea by Patrick Freyne
6.    Mind Full by Dermot Whelan
7.    A Short History of Nearly Everything by Bill Bryson
8.    Gotta Get Theroux This by Louis Theroux
9.    Atomic Habits: An Easy and Proven Way to Build Good Habits and Break Bad Ones by James Clear
10.  Positive Habit: 6 Steps for Transforming Negative Thoughts to Positive Emotions by Fiona Brennan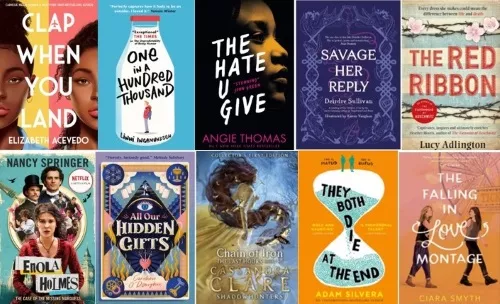 Teen/young adult fiction eBooks
1.    Clap When You Land by Elizabeth Acevedo
2.    One in a Hundred Thousand by Linni Ingemundsen
3.    The Hate U Give by Angie Thomas
4.    Savage her Reply by Deirdre Sullivan
5.    Red Ribbon by Lucy Adlington
6.    The Case of the Missing Marquess: Enola Holmes — Book 1 by Nancy Springer
7.    All of Our Hidden Gifts by Caroline O'Donoghue
8.    Chain of Iron: The Last Hours — Book 2 by Cassandra Clare
9.    They Both Die at the End by Adam Silvera
10.  The Falling in Love Montage by Ciara Smyth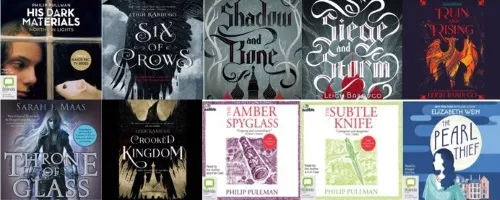 Teen/young adult fiction eAudio
1.    Northern Lights: His Dark Materials – Book 1 by Philip Pullman
2.    Six of Crows – Book 1 by Leigh Bardugo
3.    Shadow and Bone: Grisha Book 1 by Leigh Bardugo
4.    Siege and Storm: Grisha Book 2 by Leigh Bardugo
5.    Ruin and Rising: Grisha Book 3 by Leigh Bardugo
6.    Throne of Glass by Sarah J. Mass
7.    Crooked Kingdom: Six of Crows – Book 2 by Leigh Bardugo
8.    The Amber Spyglass: His Dark Materials – Book 3 by Philip Pullman
9.    The Subtle Knife: His Dark Materials – Book 3 by Philip Pullman
10.   The Pearl Thief by Elizabeth Wein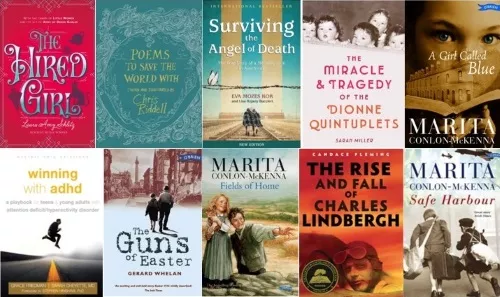 Teen/young adult non-fiction eBooks
1.    The Hired Girl by Laura Amy Schlitz
2.    Poems to Save the World With by Chris Riddell
3.    Surviving the Angel of Death: The True Story of a Mengele Twin in Auschwitz by Eva Mozes Kor and Lisa Rojany Buccieri
4.    The Miracle and the Tragedy of the Dionne Quintuplets by Sarah Miller
5.    A Girl Called Blue by Marita Conlon-McKenna
6.    Winning with ADHD: A Playbook for Teens and Young Adults With Attention Deficit/Hyperactivity Disorder by Grace Friedman and Sarah Cheyette MD
7.    The Guns of Easter by Gerard Whelan
8.    Fields of Home by Marita Conlon-McKenna and Donald Teskey
9.    The Rise and Fall of Charles Lindbergh by Candace Fleming
10.  Safe Harbour by Marita Conlon-McKenna

Teen/young adult non-fiction eAudio
1.    Beyond the Gender Binary by Alok Vaid-Menon
2.    Young People's History of the United States by Howard Zinn and Rebecca Stefoff
3.    Very, Very, Very Dreadful: The Influenza Pandemic of 1918 by Albert Marrin
4.    Almost Adulting: All You Need to Know to Get It Together (Sort Of) by Arden Rose
5.    Shakespeare for Every Day of the Year by Allie Esiri
6.    Sisters of the War: Two Remarkable True Stories of Survival and Hope in Syria by Rania Abouzeid
7.    Channel Kindness: Stories of Kindness and Community by Born This Way Foundation
8.    The Ultimate Survival Guide to Being a Girl: On Love, Body Image, School, and Making It Through Life by Christina De Witte
9.    Alice + Freda Forever:  A Murder in Memphis by Alexis Coe
10.  Hope Nation: YA Authors Share Personal Moments of Inspiration by Various Authors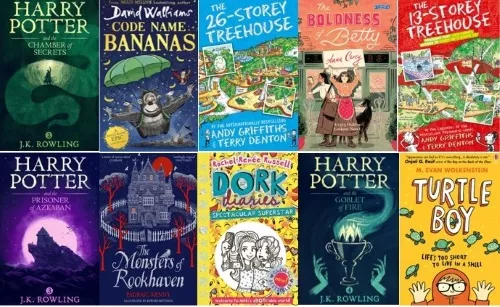 Junior fiction eBooks
1.    Harry Potter and the Chamber of Secrets by J.K. Rowling
2.    Code Name Bananas by David Walliams
3.    26-Storey Treehouse: Treehouse Book 2 by Andy Griffiths
4.    The Boldness of Betty by Anna Carey
5.    13- Storey Treehouse: Treehouse Book 1 by Andy Griffiths
6.    Harry Potter and the Prisoner of Azkaban by J.K. Rowling
7.    The Monsters of Rookhaven by Pádraig Kenny
8.    Spectacular Superstar: Double Dork Diaries by Rachel Renée Russell
9.    Harry Potter and the Goblet of Fire by J.K. Rowling
10.  Turtle Boy by M. Evan Wolkenstein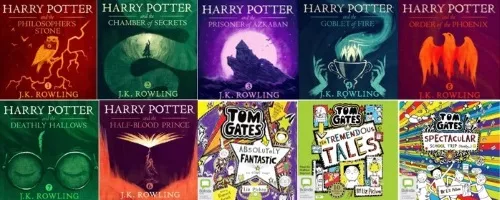 Junior fiction eAudio
1.    Harry Potter and the Philosopher's Stone by J.K. Rowling
2.    Harry Potter and the Chamber of Secrets by J.K. Rowling
3.    Harry Potter and the Prisoner of Azkaban by J.K. Rowling
4.    Harry Potter and the Goblet of Fire by J.K. Rowling
5.    Harry Potter and the Order of the Phoenix by J.K. Rowling
6.    Harry Potter and the Deathly Hallows by J.K. Rowling
7.    Harry Potter and the Half-Blood Prince by J.K. Rowling
8.    Tom Gates is Absolutely Fantastic (At Some Things) by Liz Pichon
9.    Ten Tremendous Tales by Liz Pichon
10.  Spectacular School Trip (Really) by Liz Pichon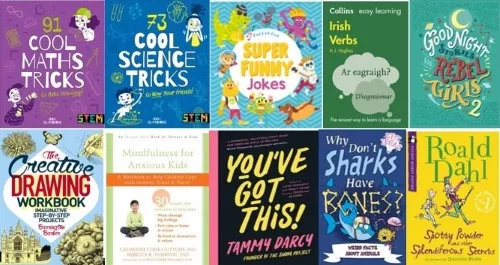 Junior non-fiction eBooks
1.    91 Cool Maths Tricks to Make You Gasp! by Anna Claybourne
2.    73 Cool Science Tricks to Wow Your Friends! by Anna Claybourne
3.    Pocket Fun: Super Funny Jokes by Jack B. Quick
4.    Collins Easy Learning Irish Verbs by Dr. A. J. Hughes Collins
5.    Good Night Stories for Rebel Girls 2 by Elena Favilli and Francesca Cavallo
6.    Creative Drawing Workbook: Imaginative Step-by-Step Projects by Barrington Barber
7.    Mindfulness for Anxious Kids: A Workbook to Help Children Cope With Anxiety, Stress, and Worry by Catherine Cook-Cottone PhD and Rebecca K. Vujnovic PhD
8.    You've Got This: Learn to Love Yourself and Truly Shine in Your Teens and Beyond by Tammy Darcy
9.    Why Don't Sharks Have Bones?: Questions and Answers About Sea Creatures by William Potter, Clare Hibbert and Marc Powell
10.  Spotty Powder and other Splendiferous Secrets by Roald Dahl

Junior non-fiction eAudio
1.    Harry Potter: A History of Magic by Ben Davies
2.    Rashford: Ultimate Football Heroes by Matt Oldfield
3.    Astrophysics for Young People in a Hurry by Neil deGrasse Tyson
4.    The Pilot and the Little Prince by Peter Sis
5.    Kane: Ultimate Football Heroes by Matt Oldfield and Tom Oldfield
6.    Relaxation and Mediation for Children by Dr. Gillian Ross
7.    True Ghost Stories by Terry Deary
8.    Hillary Rodham Clinton: Do All the Good You Can by Cynthia Levinson
9.    Who was Alexander Hamilton? By Meg Belviso and Pam Pollack
10.  Mindfulness for Kids by Carole P. Roman and  J. Robin Albertson-Wren