The most borrowed library books in 2021
Published on 14th January 2022
We've pulled together a few top 10 lists of titles borrowed last year by you, our wonderful Dublin City library members. It's lovely to see that you enjoyed so many great books including, amongst others, the One Dublin One Book choice, Dublin Literary Award winners and short-listed titles, plus a couple of our Citywide Reads.
You can reserve the books here and collect from a library of your choice. Or drop into your local library for a browse and to see what's on offer. There's lots of great stock to choose from, and friendly, helpful library staff to advise and guide you.
If you don't have a library card at the moment or if you need to renew your library membership, contact your local library and they will help you; see here for more information on library membership. Or contact us at [email protected]. We're always happy to help.
A very happy New Year to you all, and here's to lots of great reading in 2022!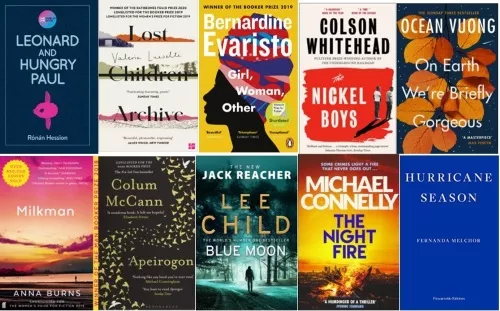 Adult fiction
1.    Leonard and Hungry Paul by Rónán Hession
2.    Lost Children Archive by Valeria Luiselli
3.    Girl, Woman, Other by Bernardine Evaristo
4.    The Nickel Boys by Colson Whitehead
5.    On Earth We're Briefly Gorgeous by Ocean Vuong
6.    Milkman by Anna Burns
7.    Apeirogon by Colum McCann
8.    Blue Moon by Lee Child
9.    The Night Fire by Michael Connelly
10.  Hurricane Season by Fernanda Melchor; translated from the Spanish by Sophie Hughes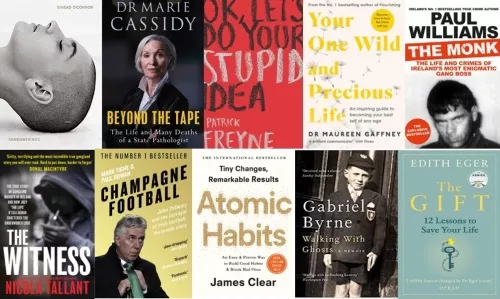 Adult non-fiction
1.    Rememberings by Sinéad O'Connor
2.    Beyond the Tape: The Life and Many Deaths of a State Pathologist by Dr Marie Cassidy
3.    OK, Let's Do Your Stupid Idea by Patrick Freyne
4.    Your One Wild and Precious Life: An Inspiring Guide to Becoming Your Best Self At Any Age by Dr. Maureen Gaffney
5.    The Monk: The Life and Crimes of Ireland's Most Enigmatic Gang Boss by Paul Williams
6.    The Witness by Nicola Tallant
7.    Champagne Football: John Delaney and the Betrayal of Irish Football: The Inside Story by Mark Tighe and Paul Rowan
8.    Atomic Habits: Tiny Changes, Remarkable Results by James Clear
9.    Walking With Ghosts: A Memoir by Gabriel Byrne
10.  The Gift: 12 Lessons To Save Your Life by Edith Eger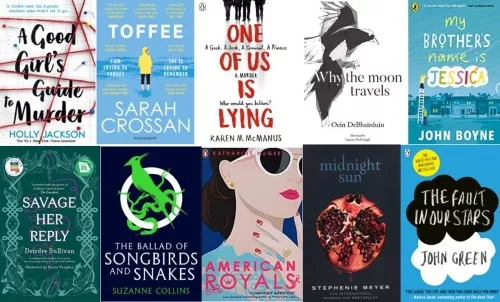 Teen/young adult fiction
1.    A Good Girl's Guide To Murder by Holly Jackson
2.    Toffee by Sarah Crossan
3.    One Of Us Is Lying by Karen McManus
4.    Why The Moon Travels by Oein DeBhairduin; illustrated by Leanne McDonagh
5.    My Brother's Name Is Jessica by John Boyne
6.    Savage Her Reply by Deirdre Sullivan; illustrated by Karen Vaughan
7.    The Ballad Of Songbirds And Snakes: a Hunger Games novel by  Suzanne Collins
8.    American Royals by Katharine McGee
9.    Midnight Sun by Stephanie Meyer
10.  The Fault In Our Stars by John Green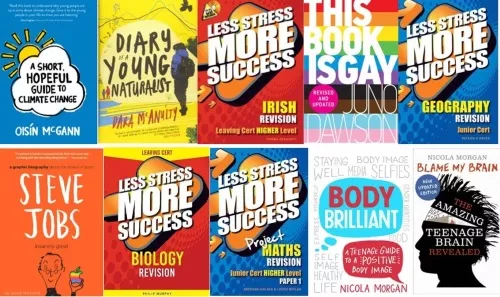 Teen/young adult non-fiction
1.    A Short, Hopeful Guide To Climate Change by Oisín McGann
2.    Diary of a Young Naturalist by Dara McAnulty
3.    Irish Revision: Leaving Certificate Higher Level by Triona Geraghty
4.    This Book Is Gay by Juno Dawson; illustrations by Spike Gerrell
5.    Geography Revision: Junior Certificate by Patrick O'Dwyer
6.    Steve Jobs: Insanely Great - A Graphic Biography by Jessie Hartland
7.    Biology Revision: Leaving Cert by Philip Murphy
8.    Project Maths Revision: Junior Cert Higher level Paper 1 by Louise Boylan and Brendan Guildea
9.    Body Brilliant: A Teenage Guide to a Positive Body Image by Nicola Morgan
10.  Blame My Brain: The Amazing Teenage Brain Revealed by Nicola Morgan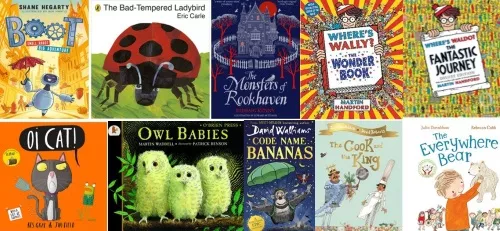 Young readers - fiction
1.    Boot: Small Robot, Big Adventure by Shane Hegarty; illustrated by Ben Mantle
2.    The Bad-tempered Ladybird by Eric Carle
3.    The Monsters of Rookhaven by Pádraig Kenny; illustrated by Edward Bettison
4.    Where's Wally? : the wonder book by Martin Handford
5.    Where's Wally?: the fantastic journey by Martin Handford
6.    Oi Cat! by Kes Gray; illustrated by Jim Field
7.    Owl Babies by Martin Waddell; illustrated by Patrick Benson
8.    Code Name Bananas by David Walliams; illustrated by Tony Ross
9.    The cook and the King by Julia Donaldson; illustrated by David Roberts
10.  The Everywhere Bear by by Julia Donaldson; illustrated by Rebecca Cobb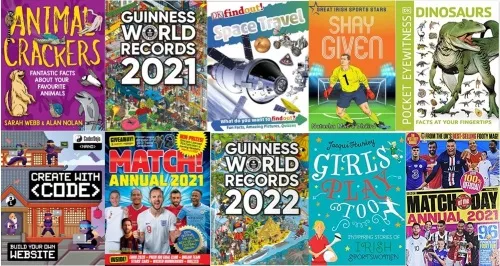 Young readers – non fiction
1.    Animal Crackers: Fantastic Facts About Your Favourite Animals by Sarah Webb and Alan Nolan
2.    Guinness World Records 2021
3.    Space travel [DK Findout!] by Jerry Stone
4.    Shay Given by Natasha Mac a'Bháird
5.    Dinosaurs: Facts at your Fingertips
6.    Create with Code: Build Your Own Website / CoderDojo
7.    Match! Annual 2021
8.    Guinness World Records 2022
9.    Girls Play Too: Inspiring Stories of Irish Sportswomen by Jacqui Hurley; illustrations by Sinead Colleran, Rachel Corcoran, Jennifer Farley, Jennifer Murphy & Lauren O'Neill
10.  Match of the Day Annual 2021