Music biographies on BorrowBox
Published on 2nd June 2020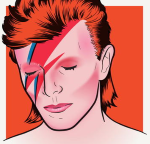 Music can be so uplifting, and a great source of inspiration and solace to many of us still on lockdown. With this in mind why not check out the life stories of the musicians behind some of your favourite songs, with the varied and great music biographies available on BorrowBox. Here's just a few suggestions.
'The Last Interview: And Other Conservations' – David Bowie
David Bowie was a chameleon of a performer. His music and style evolved and changed over a remarkable career, leaving us with a wealth of diverse and ground breaking albums. Check out these recollections of a colourful and eventful life. These insightful interviews span the course of Bowie's career, from his earliest right up to one of the last given prior to his death.
'Love, Janis' – Laura Joplin
One of the most rousing, heart breaking and soulful voices in rock music belonged to a certain Janis Joplin. A fierce performer who was an electric presence in the emerging counter culture scene of 60s San Francisco. A legendary artist from an iconic era, Joplin lived an all too brief but extraordinary life. This book contains recollections from friends and family who knew her best, and a series of previously unpublished letters lovingly compiled by her sister.
'M Train' – Patti Smith

Patti Smith is an artist of many talents. Renowned as a photographer, poet and visual artist, she is perhaps best known for her music. A music that fuses the blues, punk and an anarchic spirit. 'M Train' is the second of two memoirs by Smith, where she ruminates on the places, people and the creative influences that inspire her work. For those who loved her first memoir 'Just Kids', this is a must read.
Submitted by Michael from Dolphin's Barn Library.
Access eBooks/eAudiobooks on your phone, tablet or reader. Once you have installed the app, search for Dublin in the 'Library' field provided and then sign in using your library membership card number and PIN. Watch our how to video on Borrowbox. Members of other library authorities will need to log in using a different link.