Published on 20th May 2020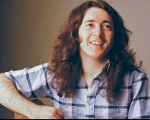 It's always going to be hard writing a book about someone as closed personally as Rory Gallagher was, but this is as excellent a career overview of Ireland's greatest guitarist as you can get, with plenty of old friends going back to his school days, to the roadcrew that he spent so much time with on the road, telling their tales, along with plenty of  Rory's own words from interviews over the years.
Rory Gallagher by Marcus Connaughton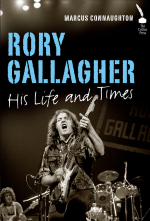 If it's information about his private life you're after then this isn't the place to get it mainly due to the fact that Gallagher kept his private life just that - private. While he gave countless interviews over the years, unless it was about music he was very reluctant to say anything; at the end of the day he came across as a shy man (hard to believe when you see him in action on stage) who just lived for making his music and then going on tour with it, and anything else - if there even was anything else - was his business.  Along with all this there are some brilliant photos of Rory on stage and some even going back to his days as a teenage showband member. All in all a great read and it'll have you digging out the Rory albums as you go!
What Does This Button Do? by Bruce Dickinson
Despite being the lead singer in Iron Maiden for over 30 years there's a lot more to Bruce Dickinson than this: he was an Olympic standard fencer, went from flying band members around the US in a small plane in 2000 to flying the band, crew and equipment around the world in a 747 two years ago, he's also been an author, broadcaster, businessman and brewer so he has plenty to tell, and that's all before he got diagnosed with tongue cancer in 2014.  While there's plenty of his Maiden days in this, it's not just for fans of the band as he's equally as passionate about all of the other strings in his bow and comes across as a very intelligent, curious man who when he gets involved in something really throws himself into it 100% and this attitude surely helped him get through his cancer diagnosis.  As I said it's not just a book for Maiden fans, there's plenty of variety in it for all.
Born to Run by Bruce Springsteen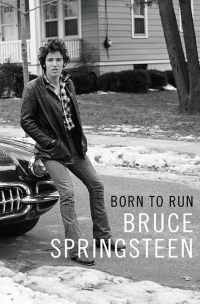 An unsurprisingly hugely anticipated book when it was released, this didn't disappoint: a very honest read which is written in typical Springsteen phrasing very similar to the way he tells stories through his songs. Nothing is left out here, although not everything is followed through to its full extent - then again if he was to go fully into everything that's happened in a near 50 year career he'd still be writing it! The early years as he struggles along in a variety of bands is very interesting as the idea of quitting never seems to occur to him and it's this determination that eventually paid off;  but even then he had some management/legal problems in the mid 70's that seemed to have more effect on him than the constant knock-downs he had when younger, but once this issue was sorted things just took off to unbelievable levels.  He comes across as a very deep man who has thought long and hard about all he has done and will often end a paragraph or a chapter with a question or a conclusion that will have you thinking about it for hours or even days afterwards. The follow-on project to the book was the Springsteen on Broadway show which ran for well over a year and the good news is it's available on the Freegal service from the library, along with several concerts from the 70s and 80s.
Access eBooks/eAudiobooks on your phone, tablet or reader. Once you have installed the app, search for Dublin in the 'Library' field provided and then sign in using your library membership card number and PIN. Watch our how to video on Borrowbox. Members of other library authorities will need to log in using a different link.
Submitted by Niall from Finglas Library.