Nails, Axes, Mirrors. And Love! Much ado about Crime
Published on 10th December 2015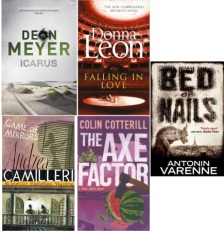 It is all too infrequent these days that I get a chance to post here on the blog regarding my crime fiction reads. It's not to say that I haven't been reading of late, far from it, but it does mean that I can struggle a little to recall the story line details of the many books I have read since my last post and how exactly I felt about them. But let me try at any rate. The following five books are either of an Italian, Thai, French or South African flavour, and I'm glad to say that none of them will disappoint. So read on!
Icarus (published 2015) is the latest from South African crime writer Deon Meyer featuring Detective Captain Benny Griessel of the elite investigative team known as the Hawks. Griessel is investigating the high profile murder of Ernst Richter, MD of a new Internet startup company, whose body is discovered buried in the sand dunes north of Cape Town. But Benny has his own troubles, falling off the wagon as he does after 602 days dry. This has consequences both for his private life and work life, and he is challenged to remain focused and sharp at what he does best and to avoid being discovered and chucked out of the force. Richter's company, Alibi, is involved in providing false alibis to people; that and his trying to extract money from clients when his company is strapped for cash, means that there could be any number of possible suspects. There is a parallel story running throughout the book involving the confession of a wine maker under investigation, and the inevitable link between the two does not become clear until near the end.
The investigative interviews with winemaker Francois de Toit that punctuate the story throughout were an aspect of the book I found a bit tedious, even if eventually everything does come together. This book also does not have the pace of Meyer's previous titles, however the plot line is as ever intricate and well thought out. His characters too are as ever well developed and interesting to boot. By and large this latest from Meyer is on a par with his previous books, which is another way of saying I can well recommend.
This is the twenty-fourth title in Donna Leon's Venice-based crime series featuring Commissario Brunetti. In this the opera singer Flavia Petrelli is uncomfortable with the level of attention she is getting from a supposed admirer, and when another singer is seriously injured having been pushed down some steps, Brunetti's concern for Flavia is heightened as he thinks both events may be related. The investigation is stepped up therefore before anyone comes to more serious harm. This story has an association with Leon's first book in the series, 'Death at La Fenice' where the soprano Flavia was a suspect in the death of a conductor. It therefore entails a revisit to the opera house La Fenice and the world of opera beloved by both Brunetti and Leon.
An improvement on her previous (By Its Cover), but otherwise unremarkable; there is little real mystery, the outcome predictable. I have seen more of the streets and sights of Venice in previous books, but Brunetti's wife Paola and in-laws do feature somewhat, which I welcome, as does the ever resourceful secretary Signorina Elettra, her involvement invariably adding some humour and comedy to proceedings. This time she is on strike against her boss Vice-Questore Patta and his sidekick Lieutenant Scarpa!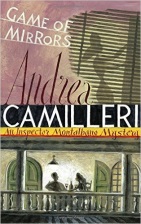 Game of Mirrors by Andrea Camilleri

Game of Mirrors is the 18th in the Salvo Montalbano series from Andrea Camilleri, one of Italy's leading crime writers. Like all the others it is a joy to read and you will surely enjoy as I have Camilleri's style, the humour, the clever plot line, the Sicilian landscape and the culinary delights. I miss though, as I have done with many of the books, the presence of Salvo's longtime girlfriend Livia, living as she does in northern Italy and thus making only brief appearances at the end of a phone line. Their chemistry when she does visit Sicily adds so much to the books, so may she soon return.
Summary - When Montalbano comes to the aid of his new neighbour, Liliana Lombardo, after the engine of her car is interfered with, the inspector can little imagine where this innocuous event will lead. It soon transpires that the young woman - beautiful, intelligent and rather vague about the whereabouts of her husband - is being targeted by someone with a grudge against her. But is Liliana's growing interest in Montalbano simply a product of the detective's innate charm? Or is she trying to lead him astray - and into trouble?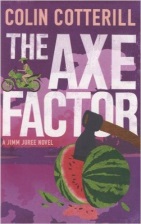 The Axe Factor by Colin Cotterill

This is the third and latest in the Jimm Juree series, following as it does 'Killed at the Whim of a Hat' and 'Grandad, There's a Head on the Beach'. These are humourous, witty reads with quirky characters and comic events, and murder too (!), all set in exotic rural Thailand. The plot is clever too and be certain things are not always as they might appear. The perfect light read for that sunny summer evening.
Summary - On the gulf of Thailand, the Juree family are managing their run-down beach resort for the second year - still stalked by disaster. Daughter Jimm has a new love in her life, but finds herself pursued by another man with a markedly different agenda in mind. Meanwhile, Jimm's new case is that of Dr Somluk, a champion of the rights of rural mothers, who is missing following a run-in with the marketeers of infant formula. As ever, there is blood, brine and bedlam aplenty at the Gulf Bay Lovely Resort.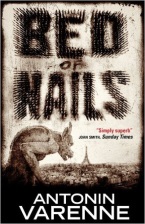 Bed of Nails by Antonin Varenne

This is the debut crime novel of French writer Antonin Varenne, and what a compelling, powerful debut it is. It can also be described as bleak and dark, but don't be put off by such descriptions. Inspector Guérin of the Suicide Division is investigating an apparent suicide during an S&M act, but things may not be as they appear. Plus also too events in people's past lives have a huge influence on their present state of being. Varenne is very strong on character development and human relationships, though unsympathetic so many of the characters might appear. There is too plenty of suspense and tension. The ending, without giving anything away, will do little to settle you or cheer you up! A must read. Another strong French crime writer to rank alongside the likes of Fred Vargas and Pierre Lemaitre.
Summary - It's as if he's being mocked from beyond the grave. When John Nichols arrives to identify the body of an old friend, he is immediately caught up in the detritus of Alan Musgrave's life, the side of Paris the tourists don't see, where everyone has a past but very few count on a future.
Happy reading!