Published on 24th November 2016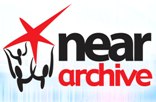 The Near Archive is a digital audio database of interviews originally broadcast on Near FM's flagship community affairs programme Northside Today between the years 2011 and 2016. The Archive was officially launched on Wednesday 16 November at 6.30pm in Coolock Library by Dr Pauric Travers, chairperson of the Broadcasting Authority of Ireland.
The content reflects upon the themes of Irish Culture, Life and Experience with a particular emphasis on local arts and culture, local news, history, heritage and community events. The total number of archived pieces in this collection is presently c.1,200.
Near Archive has been assembled with the input of expert partners including the Digital Repository of Ireland and Dublin City Public Libraries and Archive. In addition a cross sectoral approach to archiving has been established through CRAOL, the national body for community radio.
Near Archive can be accessed by visiting www.archive.ie where content can be streamed or downloaded and runs on a Creative Commons license.
Partners and Funders
Near FM.
CRAOL (Community Radio Ireland).
Broadcasting Authority of Ireland.       
Digital Repository of Ireland.
Dublin City Library & Archive.
CDETB.
The Near Archive is supported by the Broadcasting Authority of Ireland Archive scheme.