Never Stop Learning with Your Library
Published on 22nd March 2023
A learning city promotes lifelong learning for all.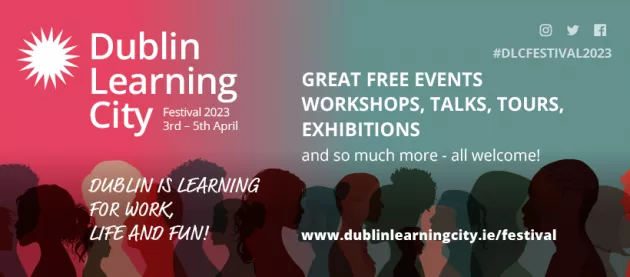 Dublin Learning City Festival takes place from 3rd-5th April 2023. The  festival will feature online and in person events from walking tours, talks, arts and crafts, workshops, exhibitions, music and much, much more. Dublin Learning City Festival has an event for everyone. 
Learning with your Library
Dublin City Libraries supports learning for everyone, at every stage of life with a wide range of free services, resources and events. Learning opportunities include online courses, language learning, and computer skills. Library collections including databases, books, magazines, audio books, DVDs, podcasts can assist your learning and study. You'll also find unique learning spaces like our Creative Studio at Ballyfermot Library, MakerSpace at Coolock Library and Sensory cubbies at Cabra, Coolock and Walkinstown Libraries.  
Whether you like to learn at your own pace online or in a more social setting, you'll find plenty on offer at your library. 
Learning together
No matter where your learning interests lie, you'll find plenty of inspiration at our free events, workshops, clubs and talks.
Foster your creative side in a fun social way at one of our Creative Writing groups or regular art groups. 
Our film screenings and book clubs are a great way to meet like minded people and discover something new. 
Attend one of our many readings and talks to gain an insight into the rich literature, culture and history of the city.  This April, you'll find lots on with One Dublin One Book.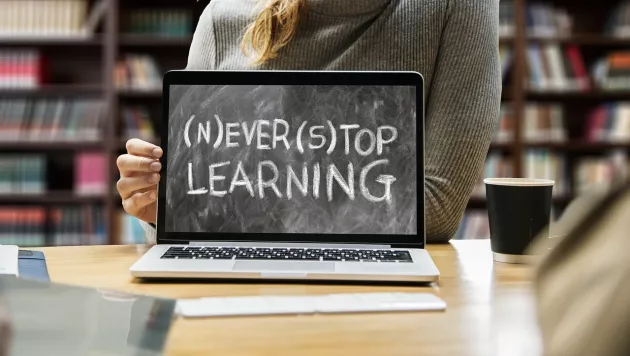 Learning Online
Why not start learning a new language, develop your digital skills for work and/or leisure, pick from hundreds of free online courses. You can learn in your own time, at your own pace. Here are just some of the online learning opportunities available at your library.
Universal Class
Universal Class offers a unique online education experience. There are over 500 courses available on a diverse range of subjects. Learn to create a website, write a novel, overcome your fear of maths or touch up some old photos. You will never be bored with Universal Class. There is something here for everyone.
The courses involve real instructors to guide your learning and video-based lessons. Register using your Dublin City Library number. Register at www.LGMA.universalclass.com/register.html
The Great Courses
Learn about science, history, music, art and languages and explore a new topic or area of interest with Great Courses.
Each course is video based learning and subjects range from CBT to chemistry, from the fundamentals of photography to learning French, from astronomy to art, from history to health, and much, much more.  All courses are taught by experts in their fields, including for example National Geographic's master photographer Joel Satore and celebrated astrophysicist Neil deGrasse Tyson.
You can access as many courses as you want to for 7 days. After 7 days, simply log in again and get another 7 day's access.
To access the Great Courses, click on the Extras link on the Libby app (available to install on your device from Google Play - Android or iTunes - iOS).
ArtistWorks
ArtistWorks for Libraries provides video instruction from music professionals.  Video lessons contain everything you need to reach your musical goals.  Pick your instrument, or genre of music with everything from Blues, Bluegrass, Jazz, Rock, Classical and more. All levels are welcome!
You'll have full access to content from ArtistWorks for 30 days. When it expires, you can get access through Libby again. When registering for Libby, do not put in your local branch please put in Dublin City.
Infobase Learning Cloud
Infobase Learning Cloud features on demand technology tutorials. It offers unlimited access to video-based software training on hundreds of common software applications and devices, including Microsoft Office, Zoom, Adobe Creative Suite, Google Docs, and iPad.
Touch-Type-Read-Spell
Touch-type Read & Spell (TTRS) is an online typing course which assists students to learn at their own pace. 
Listen to words, see the words on the screen, and then type out the words, harnessing muscle memory in the hands and fingers to learn spelling.
See a full listing of our online resources.
Language Learning
There are many reasons why you should learn a language. From health benefits to improved memory and brainpower. The most important advantage of learning a language is its ability to ward off diseases such as Alzheimer's and Dementia. The results of various studies showed that in adults who speak two or more languages, the first signs of the diseases were offset by a few years. Parlez with the best of 'em! 
Improve your language skills with our online language courses such as Transparent Languages Online and uTalk; free with your library membership. Visit our eResources page for more information.
You can improve your conversational skills through informal conversation exchanges in several of our branch libraries. 
Learning Supports
Students of all ages need to effectively gather, study, and cite sources for their essays and projects. As librarians know, the internet has made this process fruitful but more complicated. Our online reference and research tools are credible, usable scholarly resources.
There's also some more online resources designed to help you with home study and remote learning, projects, essays, assignments and reports.
Many of our libraries offer study spaces, and now Pembroke and Raheny Libraries offer additional self-serviced hours with My Open Library.
Happy Learning!