New Book Rediscovers Dublin Wit and Satire of a Century Ago
Published on 20th February 2015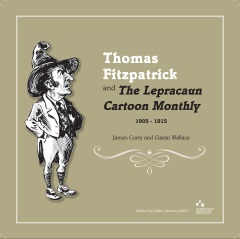 Book Launch - Thomas Fitzpatrick and The Lepracaun Cartoon Monthly 1905-1915.
Dublin City Public Libraries and Archive has announced the publication of a new book which promises to offer the reader an irreverent take on a tumultuous period in Irish History.
James Curry and Ciarán Wallace's new book 'Thomas Fitzpatrick and The Lepracaun Cartoon Monthly 1905-1915' introduces a new generation of readers to the work of Thomas Fitzpatrick owner and chief cartoonist of the 'Lepracaun' monthly which was a best seller on Dublin's news-stands a century ago.
View Book Launch Photo slideshow below.
Browse and search The Lepracaun Cartoon Collection online.
The monthly satirised the leading politicians, publicans, clerics, suffragettes, trade unionists and industrialists of its day for the price of a penny. It also countered the ape-like Irishman and the noble figure of 'Pat' that featured in the contemporary London publication Punch.
Dublin's Deputy Lord Mayor Cllr. Larry O'Toole launched the new book at Dublin City Library & Archive, 136-144 Pearse St, Dublin 2 on Thursday 19th February. He said "This new publication reminds us of how courageously the 'Lepracaun' took aim at the vested interests of its day. At a time when some would seek to question the value of satire in society I congratulate the book's authors and Dublin City Council's library service for publishing this book."

View the The Lepracaun Cartoon Monthly and the 1913-14 Dublin lockout Image Gallery.
Author James Curry said, "in a decade when separatists, suffragettes, home rulers and unionists were battling for Ireland's future – the 'Lepracaun's' cartoonists were spoilt for choice."
His co-author Ciarán Wallace said "The 'Lepracaun' lampooned it all: the arrival of the motor-car, Dublin's slums and hilarious fashions in hats appear alongside votes for women, workers' rights and the Ulster Crisis."
See below photo slideshow from the launch :
Check for the Publication in the Library Catalogue.
Watch this fabulous interactive video, courtesy of RTÉ