New Improved Version of Tell Me More
Published on 7th September 2012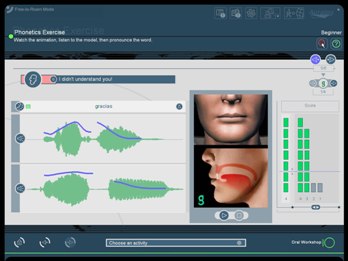 A new version of Tell Me More Campus, the language learning program, has arrived here at the Open Learning Centre. This program, first introduced here in November 2008, teaches six languages through the medium of 19 interface languages. The six languages are: English, French, Spanish, Italian, German and Dutch. Included in the interface languages are: Portuguese, Slovak, Polish, Russian, Chinese and Korean as well as the major Western European languages.
 Students can work on their speaking, listening, reading, writing and grammar skills. This new version 10 includes 40 different types of activities to keep the student engaged and motivated. There's also a section with lessons based on Euronews videos. These contain activities based on a recent news item under the following headings; Politics, Economics, Science and Culture. There are also workshops which concentrate on a particular skill of your choice - you can choose from a range of 50 activities such as a dialogue or dubbing a film etc.
A "My Statistics" section gives you a summary of work done in each language skill as well as a progress report showing completed activities and your success rate. An instructional video will help you get started and this can be repeated as many times as you want.
We have 17 public computers here in the centre dedicated to Tell Me More. To avail of the program you need to be a library member and also register here in the Open Learning Centre. If you commit to long-term study of a language, we can give you a licence to use the program virtually. This lasts for a year.
Tell Me More also allows access to a free 7-day trial to give you a taster of the program. Just create your online temporary account and work for a week on the language of your choice. You can even do a placement test in your chosen language to ascertain your starting level. If you like what you see, come into us here in the Central Library, Ilac Centre and sign up!