New Laureate for Irish Fiction - Sebastian Barry.
Published on 9th February 2018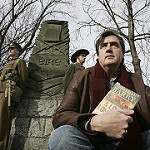 Congratulations to Sebastian Barry, son of Dublin and well regarded around here this long time as he embarks on his three year stint as Laureate for Irish Fiction.
As who for what?
The Laureateship is an initiative of the Arts Council which has the following aims:
honouring an established Irish writer of fiction;
encouraging a new generation of writers;
promoting Irish literature nationally and internationally;
encouraging the public to engage with high quality Irish fiction.
What will the Laureate do anyway?
Well, the good news is that as the Laureate Sebastian will continue his work as a creative author, on top of this however he will take on new responsibilities.
During the three years he will spend one semester at University College Dublin and one at New York University. While there he will teach creative writing courses, work with staff and students and also deliver an annual lecture Additionally, the Laureate for Irish Fiction will engage in a select number of major public events per annum, with the primary objective of promoting and encouraging greater engagement with Irish literature.
On top of this he will embark on a programme of public events around the theme of, amongst other things, 'The Golden Age of Writers and Readers'.  What this will involve will play out over the next three years but Sebastian has given a few hints, speaking at the award ceremony he said:
"There are at least 20 people if not more who at the moment would be highly qualified to do this laureateship. That hasn't always been the case. When I was starting out in the 70s you had four or five and that was it.... I'm quite overwhelmed sometimes by meeting a Sally Rooney or a Rob Doyle because they seem to me rather tremendous … there's a formidable quality to the writing. What unites them is the ability to generate the shock that rare work gives the reader, not only in the pleasure and gratitude it engenders, but the serious business of the lines and engines of your own life finding answer and echo in another's art."
Who is Sebastian Barry?
For shame! Barry was born in Dublin in 1955. he has won more awards than you could shake a stick at but some highlight include his winning the Costa Novel award in 2008 for 'The secret scripture' and in 2016 for 'Days without end'. 2005's 'A long long way' was selected as Dublin City Public Library's 'One City One Book' in 2007. For more information on the man himself check out his Wikipedia entry. To borrow his books from your local library check out our online catalogue, if ebooks are more you style you will find them on our BorrowBox service.
If you want to keep up with what Sebastian will be doing for his time in office it would be worth following the Laureate twitter feed.