Published on 7th August 2013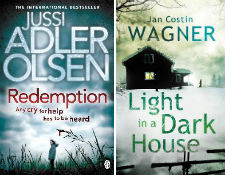 With the prospect of some added free time coming my way over the next couple of weeks, a chance to catch up on my reading beckons. So no better time than the present to have some good luck, with two recently (18 July) published crime novels landing on my desk just today! The two are: 'Redemption' (US title: A Conspiracy of Faith) by Denmark's Jussi Adler-Olsen and 'Light in a Dark House' by German-born but Finnish-based Jan Costin Wagner. Having read and enjoyed both authors before, I can now look forward to reading these two new titles in the near future.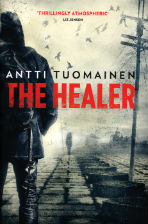 I have recently been reading a number of other Nordic crime fiction titles, the latest being 'The Healer'

 by Finland's Antti Tuomainen. This is a crime book with a difference: it is set in the not-too-distant future where climate change is wreaking havoc and society is breaking down, indeed already largely has. It is also set in a city not often featured in (crime) books I come across, namely Helsinki, a city I have visited, so my curiosity was raised somewhat. But if I had hoped for some sense of place, some sense of familiarity, then that hope was certain to be quashed a little, as by the very nature of the story the city and the society have been greatly altered by the climatic catastrophe (in Helsinki's case, mostly in the form of torrential rain) that has engulfed the world. As much as I gleamed from it was familiarity with some place-names and locations I recognised as struggling poet Tapani travelled the city in search of his journalist wife Johanna who had gone missing. But that is where the familiarity largely ended. In his attempts to find Johanna, Tapani has to contend with vigilante-type local security groups who operate largely in the absence of law and order, and some shady and dangerous characters, none more so than the serial killer known as 'The Healer' with whom Johanna's disappearance, while investigating a series of murders, seems to be inextricably tied up. In his search Tapani discovers things about Johanna, about her past life, that he was never aware of.
Though the constant downpour ensures that the setting is gloomy, this book is far from so. The plot is conventional enough, but well constructed. This is not a fast-paced book, but it does build to a nice climactic ending. As another reviewer said, "nothing happens very fast". It is well written (and translated), Antti Tuomainen's largely simple prose style is a plus and adds much to the atmosphere. Indeed the atmosphere, and the vision of the future are probably its strongest aspects; a world ravaged by major climatic change, a city and society in decline, lawlessness, hunger, distrust, a constant gloom, a dystopia. It does tickle your imagination this. It has been well received since it was first published, winning the Best Finnish Crime Novel of the Year Award in 2011, and is the first of Tuomainen's novels to be translated into English. I think we can look forward to his next.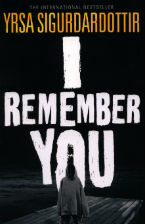 Staying with the Nordic theme, previous to The Healer I had read 'I Remember You'

 by Iceland's Yrsa Sigurdardottir. In this story, three friends are renovating a derelict house in an isolated village in Iceland's Westfjords, but their's does not seem to be the only presence, a scary and seemingly sinister one lurks in the shadows, its ill-intent becoming clearer as the story develops. But maybe that is not the only source of the growing tension between the three? Meanwhile elsewhere a young doctor is ever troubled by the disappearance of his young son. That the two stories should converge and truths be revealed when they do seems inevitable, and converge they finally do amidst the harsh landscape that is the Westfjords.
What I didn't realise and was not quite prepared for in starting to read this book was that it is in essence a ghost story, and that aspect of it never appealed to me. It has plenty of those things that characterise a ghost story – the human figure that appears and then disappears just as quickly, unexplained occurrences and accidents, the horrible deathly smell, the eerie presence of someone or something unknown, and the inevitable loss of any means of communicating with the outside world. Best described as a supernatural thriller, not as a crime novel. I am also not overly fond of the author's style and pre-occupation with details which add nothing to the story.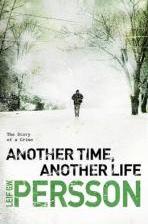 'Another Time, Another Life: The Story of a Crime'

 was the second book by Sweden's Leif G. W. Persson that I read, and to my mind a big improvement on the first ('Between Summer's Longing and Winter's End'). This book takes us from the (factually real) bombing of the West German embassy in Stockholm in 1975 to a (fictional) murder investigation in 1989, and finally to a revisiting of that murder in 1999 when a link to the 1975 event suggests itself. The book, in making use of a real life event from 1975, and later documenting the establishment of the Swedish secret security service in order to contextualise to some degree the fictional story, blends the real with the fictional in a way that serves to emphasise (as I see it) Persson's desire to have his works act as a form of commentary on aspects of Swedish society. Therefore there is much more to his books than just the fictional storyline, and the reader needs to be aware of this in order to fully understand what is going on and what the author is attempting. It ought to be said too that the author's expertise as a criminologist, his advisory role to the Swedish Justice ministry and his standing in that respect, lends some weight and authenticity to the book. The book offers plenty of insight into police behaviour and into the various police characters involved in the different events and time frames, with the sexism and bigotry present to some degree in the previous book even more obvious in this. That said, there is a mix of sympathetic police characters and some less than so.
This book is a mix of police procedural, political satire and psychological study, and of added interest maybe to the reader with an interest in the murkier side of politics and the establishment. It should be said too that the pace is slow, but that is Persson's style. The one place where I started to lose interest was towards the middle of the book when, after the 1989 murder investigation, the author goes about describing events around the fall of the Berlin wall, the rush to get hands on former East German intelligence and the establishment of the Swedish secret police. A second reading and I would be better prepared for this venture into documentary and away from the core storyline for an albeit brief time.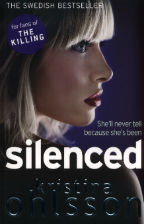 My final mention is 'Silenced'

 by another Swede, Kristina Ohlsson. In this, the second translated novel from Ohlsson involving a team of Stockholm detectives ably assisted by civilian researcher Fredrika Bergman, a number of different (yet somehow related?) cases occupy the team. The death of a vicar and his wife shortly after a daughter is reported dead, the whereabouts of another daughter, plus the death of an unidentified man, all prove challenging for the team. Then too there is the horrific attack on a young girl years before which the book opens with and which the police are not aware of, but of course the reader is. The book also sheds considerable light on the lives of three of the main characters, their trials and tribulations. The story involves immigration and people smuggling, persons having their identity taken from them, and of course the age-old crime motivators of jealousy and revenge. In regards to the plot, I think it is more than just complex, it is I think overly elaborate. Without giving the ending away, it does beg the question as to how likely such an outcome.
While in the first book (Unwanted) I thought the male-female divide overplayed, it's fair to say that it's not an issue here, largely because Fredrika has now been more or less accepted as part of the team. But wait, there was still something to irritate me here! I have never met so many instances in a book where so many characters have tears well up in their eyes, one more than the next! Otherwise the book is an ok read, but nothing to shout out loud about.
But no matter what I think, good, bad or indifferent, enjoy your crime reads! I do mine, regardless!