Our Children's Books of the Year
Published on 19th December 2014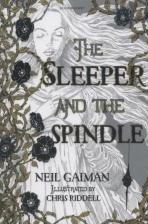 Here are just a few of the magical children's books we enjoyed reading both  to the children in our lives and ourselves!
The Sleeper and The Spindle by Neil Gaiman. Illustrated by Chris Riddle
"My favourite childrens book was Neil Gaiman's The Sleeper and the Spindle - a retelling of Sleeping Beauty/ Snow White."
Marc
Stay Where You Are and Then Leave by John Boyne 
"There have been many books about the First World War published this year but this book is a story told from a unique angle. A children's story that can be enjoyed as much, if not more, by adult readers."
Ronan
Irish comedians have been making children and librarians laugh this year!
Moone Boy: The blunder years by Chris O'Dowd and Nick V. Murphy and Danger is Everywhere by David O'Doherty, illustrated by Chris Judge
Why We Took the Car by Wolfgang Herrndorf
"It was actually published a while ago in German but the English translation came out only this year. It is a sort of 'road novel' with two teenage protagonists and the adventures that happen to them when they steal a car and try to drive to this faraway place. What makes it stand out for me is the way the author manages to convey the thinking and particularly the language of today's young people. it is very funny and deep at the same time. It was a huge success with all age groups in Germany and it deserves a lot more attention here."
Fabien
Beyond the Stars compiled by Sarah Webb
"Short stories by Irish authors and illustrators. While we are all for borrowing books in your local library this might be one to own and treasure."
For Young Adults
Only Ever Yours by Louise O'Neill
"This is great"
Anne
Picture Books
Our librarian mummy and daddies enjoyed reading these picture books to their little ones this year:
Shh! We have a plan by Chris Haughton
All of Chris Haughton's books are a firm favourites here and this year's offering is another delight. Great fun to read and act out together. 
Specs for Rex by Yasmeen Ismail
We really enjoyed Bed for Fred last year and this year's Specs for Rex is equally charming with a lovely message that being a bit different is actually pretty cool. Beautifully illustrated book by talented Dublin-born Yasmeen Ismail.
Supertato by Sue Hendra
This funny tale of supermarket superhero potato and his nemesis, a naughty escap-pea will have you all giggling at bedtime. "Remember folks some vegetables are frozen for a very good reason"
Agus cúpla ceann as Gaeilge
Póg mar seo le Mary Murphy
Crogaillín le Liam Prút agus Róisín Curé
Anne