Our Digital Repository Now Available Online
Published on 22nd February 2017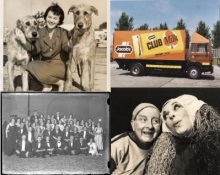 Traffic jams during the 1974 CIE Bus Strikes,  Croagh Patrick Pilgrimages (1958), and jubilant Heffo's army supporters are among 43,000 historic photographs and documents  which are being made freely available online by Dublin City Council today.  These formerly unseen images date as early as 1757 and include photographs, postcards, letters, maps and historical memorabilia.
Highlights of the collection, which can be found at digital.libraries.dublincity.ie, include the Fáilte Ireland Photographic Collection with images of people, places and tourist locations all across Ireland from the 1930s, the Irish Theatre Archive Photographic Collection, and Dublin City Council Photographic Collection. Much of the material provides photographic evidence of Dublin's ever-changing streetscapes and buildings, as well as significant social, cultural, sporting, and political events in the City. Events as diverse as the Eucharistic Congress (1932), bonny baby competitions in the North Inner City, and the Dublin Football Team of the 1970s all feature, along with sombre Dublin streets in the aftermath of tragedies such as the 1941 North Strand and the 1974 Bombings.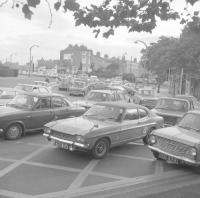 Two collections which are hugely significant in this Decade of Commemoration also are accessible on the Digital Repository. The Birth of the Republic Collection, which comprises material from the period of the foundation of the Irish State and archives of Royal Dublin Fusiliers Association which relate to Irishmen in World War 1. More material relating to 1912-1922 period will be added over the coming months and years, including the unique Jacobs Biscuit Factory Archive.
Left: Traffic jam in Fairview during the 1974 Bus Strike. (click image to view original)
Margaret Hayes, City Librarian, says:
"This new online service will provide people in Dublin and throughout the world with free and easy access to the rich collections  of Dublin City Libraries and Archives. Indeed, we look forward to the public helping us by providing additional information on the people and places featured."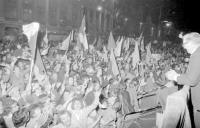 Members of the public are invited to #explorehistory and enjoy this new resource free of charge, and the Digital Repository will be invaluable to local history and heritage groups, researchers and schools.
Right: Despite defeat, there was a huge turn-out on the streets of Dublin for the defeated 1978 All-Ireland finalists. (click image to view original)
The collection is divided into two separate 'communities', the 'Dublin City Archives Community' and the 'Dublin City Libraries Special Collections Community', each in turn which comprises various collections and, in some instances, sub-collections. See below for more on the separate communities.
To uncover information on collections not yet digitized, explore Dublin City Library and Archive and the Dublin and Irish Collections, or visit us in the Reading Room.

Dublin City Archives Community
Dublin City Archives was founded in 1981. It holds the records of Dublin City Council and its predecessor bodies dating back to 1171, alongside the records of the Dublin City Archaelogical Archive, Irish Theatre Archive, Royal Dublin Fusiliers Association, Dublin City Sports Archive, and other private paper collections relating to Dublin City. The Digital Repository includes photographs and documents from these collections, which have been digitised and born-digital archives.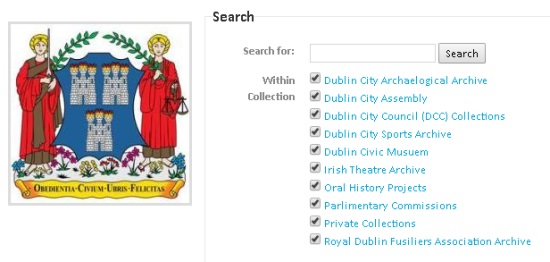 Top-level Collections:
Dublin City Archaelogical Archive - Records arising from archaeological investigations conducted in Dublin City
Dublin City Assembly - Records relating to the civic government of Dublin from 1171-1840
Dublin City Council (DCC) Collections - Records relating to activities of Dublin City Council from 1840-present day
Dublin City Sports Archive - Dublin City Sports Archive collects photographs, documents and other records from local sports clubs, organisations, and sporting individuals which reflect Dublin's rich sporting heritage. Sports featured include hockey, golf, soccer.
Dublin Civic Musuem - Photographs of the objects, artefacts and documents contained within the Dublin Civic Museum Collection
Irish Theatre Archive - The Irish Theatre Archive, contains collections deposited by theatres, theatre companies, individual actors, directors, costume and set designers, as well as theatre critics and fans. Collections can include theatre programs, handbills, posters, newspaper.
Parliamentary Commissions - Records relating to Parliamentary Commissions established in Dublin.
Private Collections - Private collections donated by individuals, organisations, businesses, voluntary groups which relate to Dublin City.
Royal Dublin Fusiliers Association Archive - The Royal Dublin Fusiliers Association was established in 1996 to commemorate all Irish men and women who volunteered, served and died in the First World War 1914-1918 and earlier conflicts such as Boer War. The RDFA Archive is managed by Dublin City Archives.
Size of the Dublin City Archives Community as of the 24th January 2017:  10,789 objects

Dublin City Libraries Special Collections Community

Collections:
Birth of the Republic Collection - This collection is made up of Irish political ephemera and covers the period 1864 – 1942.
Dixon Slides Collection - The original slides in this collection were donated to Dublin City Libraries by the photographer, Frederick E. Dixon. The photographs were taken in the 1960s and 1970s, and include book illustrations, postcards, advertisements and older photos of events around Dublin. The main focuses of the collection are Dublin city and its buildings.
Dublin City Council Photographic Collection - This collection is an amalgam of photographs taken by City Council employees in the course of their work, including everything from civic events to street-cleaning. The bulk of the material dates from the 1980s and 1990s.
Fáilte Ireland Tourism Photographic Collection - This collection contains photographs of places and people from all over Ireland, in particular well-known tourist sites. The photographs in this collection were created by the Irish Tourist authority, and donated to Dublin City Library and Archive. It includes material dating from as far back as the 1930s to almost up to the present day.
Postcards and Views - This collection is made up of postcards from Dublin City Libraries' collection. The main emphasis is on postcards of Dublin from the 19th and early 20th century.
The Lepracaun Cartoon Collection - Thomas Fitzpatrick's humorous publication The Lepracaun ran from 1905 to 1915. It provides a fascinating insight into the political and social issues of the time.
Size of Dublin City Libraries Special Collections as of the 24th January 2017: 32,161 objects

Copyright/Usage
Content is being made available for the purposes of research and education and as an alternative to directly accessing the analogue originals. Please review our terms & conditions of use.
Access http://digital.libraries.dublincity.ie/